Halloween Meals and Snacks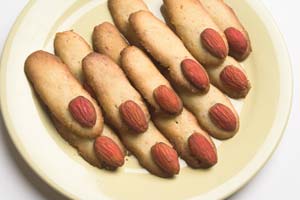 jump to the recipes

Halloween doesn't have to be all about the sugary sweets, you can still have fun (and creepy!) food that has some nutritional value (or at the very least isn't full of sugar).

Half the fun of these snacks is in the presentation. Making seemingly normal meals look gross can really add to the theme of your Halloween party. Something as simple as adding stuffed olives to look like eyeballs in a vat of spaghetti will be sure to get your guests talking about the scary (but delicious) food.
Kitty Litter Casserole

2 reviews
Made with butter, Bisquick, cheddar cheese, ground beef, rice, water, salt
oven, stovetop
Bloody Brains & Maggots

2 reviews
Made with crackers, cream cheese, baby shrimp, cocktail sauce
Baked Monster Eyes

2 reviews
Made with taco sauce, black olive, sour cream, ground beef, taco seasoning mix, water, mexican cheese, tortilla chips
oven
Moldy Dinner Rolls With Blood Clot Butter

2 reviews
Made with frozen dinner rolls, egg white, water, green food coloring paste, butter, honey, bacon, red food coloring paste, black food coloring paste
oven
Dirt

1 review
Made with Oreo cookies, Cool Whip, milk, cream cheese, margarine, powdered sugar, chocolate pudding mix
Green Slime

4 reviews
Made with black pepper, salt, frozen spinach, cream cheese, sour cream, salsa, green onions, garlic
Pumpkin Chili

2 reviews
Made with jalapeno pepper, garlic, beer, chicken broth, ripe olives, chili powder, ground coriander, salt, tomatoes, cooked pumpkin
stovetop
Breadstick Bats

1 review
Made with frozen bread dough
oven
Bloody Eyeballs

1 review
Made with red food coloring, hard-cooked eggs, whipped cream cheese, green olives
Celery Brooms

3 reviews
Made with celery
Dead Flies On Rye

1 review
Made with party rye bread, black olives, Swiss cheese, monterey jack cheese, mayonnaise, chives, bacon
oven
Candy Corn Quesadillas

2 reviews
Made with American cheese, flour tortillas, cheddar cheese, mozzarella cheese
microwave