home > recipes > holidays & parties > cooking for a crowd
Cooking For A Crowd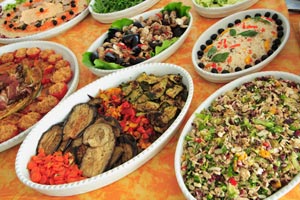 jump to the recipes

Do you need to cook for a crowd? All the recipes on CDKitchen let you change the number of servings from 1 to 1000 (and higher!) but sometimes you need a recipe that gives you extra help when cooking for a crowd. These recipes are tailored to large groups and often give hints and tips for working with large quantities of food. So try these recipes the next time you need some large crowd recipes for a family reunion, church picnic or school event.
Macaroni & Cheese For 100
25 reviews 6 comments
Made with Cheddar cheese, elbow macaroni, velveeta cheese, margarine, flour, milk, salt, black pepper
oven, stovetop
Macaroni and Cheese for a Crowd
15 reviews 9 comments
Made with milk, Colby cheese, elbow macaroni, Cheddar cheese, flour, salt, white pepper, butter, bread crumbs
stovetop, oven
Open House Punch
6 reviews
This smooth tasting punch is made with lemonade and orange juice with lemon-lime soda and a bottle of Southern Comfort. Yes, a bottle.
Spanish Rice For A Crowd
7 reviews 5 comments
Made with rice, dehydrated onions, green bell pepper, vegetable oil, bacon bits, diced tomatoes, sugar, salt, black pepper, chili powder
oven, stovetop
Cracker Barrel Meatloaf (Crowd Size)
2 reviews
Made with ketchup, biscuit crumbs, tomatoes, black pepper, ground beef, onion, green bell peppers, eggs, salt
convection oven
Sloppy Joes for 100
5 reviews
Made with water, ground beef, onions, green bell peppers, celery, brown sugar, brown mustard, ketchup, tomato paste, tomato sauce
stovetop
Easy Lasagna for a Crowd
2 reviews 1 comment
Made with basil, garlic powder, garlic, salt and pepper, spaghetti sauce, eggs, Parmesan cheese, cottage or ricotta cheese, salt
stovetop, oven
Crowd Size Classic Creamy Coleslaw
2 reviews
Made with garlic powder, salt, celery seed, cabbage, carrots, mayonnaise or salad dressing, sugar, vinegar
Oven-Scrambled Eggs
3 reviews
Made with black pepper, eggs, milk, salt
oven
Chicken And Biscuit Pot Pies for 100
2 reviews 3 comments
Made with frozen mixed vegetables, chicken, black pepper, baking mix, cream of chicken soup, cream of mushroom soup, thyme, milk
oven, stovetop
Pork Chops With Apple Stuffing For A Crowd
1 review
Made with chicken broth, poultry seasoning, sage, pork loin chops, onions, celery, apples, bread crumbs, salt, black pepper
oven, stovetop