home > recipes > holidays & parties > chinese new year
Celebrate the Chinese New Year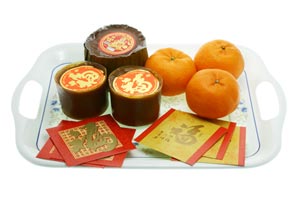 jump to the recipes

Food is a huge part of the Chinese new year celebration. Many of the foods served are symbolic in some way, often because their name has a double meaning or sounds like another word, or they resemble something else.

Dumplings are very common on this and other Chinese holidays because of their shape. They resemble the Chinese ingot. The dumplings can be filled with a variety of ingredients including pork, chicken, or vegetarian.

Long noodles are another commonly served food. The length of the noodle symbolizes a long life. You want to be careful not to break the noodles when eating them.

Other items you'll often find at a Chinese new year feast include whole fish or chicken, tangerines and oranges, and steamed cakes like rice cakes.
Chinese Pork Dumplings with Soy Ginger Dipping Sauce
1 review
You'll love these dumplings made with ground pork, soy sauce, oyster sauce, napa cabbage, and scallions and served with a soy sauce based dipping sauce.
stovetop
Jiaozi - Chinese Dumplings
Made with all-purpose flour, water, ground pork or beef, soy sauce, salt, rice wine or dry sherry, white pepper, sesame oil, green onion
stovetop
Yu Sang (Chinese New Year Salad)
Made with preserved ginger, pickled scallions, kaffir lime leaves, Red Thai chiles, green onions, cilantro, lime or lemon, peanuts, fried shrimp chips or fried rice stick noodles, sesame seeds
Steamed Chinese-Style Snapper
Made with cilantro, snapper fillets, salt and pepper, rice wine or dry white wine, fresh ginger, soy sauce, garlic, green onions, sesame oil
stovetop
Long-Life Noodles With Shrimp
Made with green onions, garlic, vegetable oil, white pepper, sugar, cornstarch, large shrimp, dried black mushrooms, salt, dried fine egg noodles
stovetop
New Year's Cake (Neen Gow)
Made with egg, Chinese dried red dates, brown candy, vegetable oil, glutinous rice flour, white sesame seeds
stovetop