Cook Time
Cook Method
Nutrition
Recipe Newsletter
April Fool's!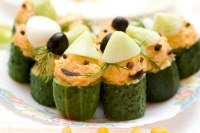 36 recipes to "fool" your friends like kitty litter casserole, dirt cake, potty jello and moldy dinner rolls
Baby Poop Dip
Ingredients: green chiles, chili, cream cheese, Cheddar cheese
microwave
Hide Dish Data™ ▼
Nutrition per serving:
166 calories, 13g fat, 8g carbs, 7g protein. Recipe is: Low in carbs.
Bird Poop
1 review

Ingredients: white chocolate chips, mini marshmallows, rice crisp cereal, pretzels, cereal
microwave
Show Dish Data™ ▼
Dog Food Dip
Ingredients: processed cheese food, cream of mushroom soup, onion, ground beef, jalapeno peppers
stovetop, crock pot
Show Dish Data™ ▼
Dirt Cake
1 review

Ingredients: milk, chocolate fudge pudding mix, vanilla extract, powdered sugar, cream cheese, butter, Oreo cookies, gummy worms, frozen whipped topping
Show Dish Data™ ▼
Cheese Burger Cake
Ingredients: food coloring, vanilla frosting, flat cookies, brownie mix, white cake mix, jelly candy leaves, sugar, milk chocolate frosting
oven, stovetop
Show Dish Data™ ▼
Super Sandwich Cake
Ingredients: American cheese, bologna, Italian salad dressing, white bread, cream cheese, ketchup