Recipes To Celebrate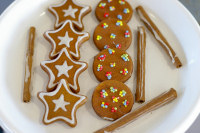 Celebrate the holidays in the most delicious ways! We've got yummy Easter cakes, scary Halloween treats, savory SuperBowl sandwiches and more. Planning a party? No problem - we've got recipes for large groups and special occasions too!
january & february holidays
Celebrate these winter holidays that fall in January or February each year.
Rich & Spicy Bloody Mary Mix
Skip the bottled Bloody Mary mix next time and make your own! This makes a big batch but it can be scaled down easily. It has just the right balance of spices and is delicious enough to drink without the vodka too!
get the recipe →
Celebrate spring and its related holidays.
Potty Jello
I made this a couple of years ago and managed to not only make the managing partner gag, I still have the First Place medal for most disgusting Halloween...
get the recipe →
Celebrate the holidays that fall in May and June each year.
White Chocolate Cheesecake Cupcakes
Cheesecake flavored pudding mix is the secret ingredient in this super easy recipe.
get the recipe →
Celebrate summer and US Independence Day
4th Of July Apple Pie
The all-American apple pie. Perfect for the 4th of July, or any time.
get the recipe →
september & october holidays
Ghouls, goblins, candy and pumpkins consume our thoughts this time of year. Check out our recipes for Halloween treats and even using up that leftover candy.
Candy Bar Smoothies
A fun way to use up leftover fun size Kit Kat bars (check out our grownup version with Kahlua in it!)
get the recipe →
november & december holidays
Learn some cooking basics, tips, and techniques that will help you in all of your cooking adventures.
Santa's Nightcap
Santa has strange tastes in drinks
get the recipe →
While all the recipes on CDKitchen can be scaled to serve larger groups, these recipes are specifically written for larger scale cooking.
Oven-Scrambled Eggs
Oven baked with an amazingly fluffy texture and creamy flavor. Easy to scale up or down for a crowd.
get the recipe →