Recipes To Celebrate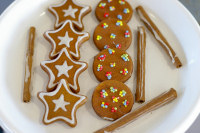 Celebrate the holidays in the most delicious ways! We've got yummy Easter cakes, scary Halloween treats, savory SuperBowl sandwiches and more. Planning a party? No problem - we've got recipes for large groups and special occasions too!
While all the recipes on CDKitchen can be scaled to serve larger groups, these recipes are specifically written for larger scale cooking.
Oven-Scrambled Eggs
Oven baked with an amazingly fluffy texture and creamy flavor. Easy to scale up or down for a crowd.
get the recipe →