BROWSE
RESOURCES
Cook Time
Recipe Newsletter
Reduced Fat Recipes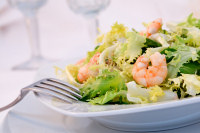 If you are looking to lower your fat intake try our selection of low fat recipes. There are all sorts of foods you can eat that are healthy or healthier versions of some of those fatty favorites. Hint: When using reduced fat ingredients check the product label to make sure they aren't just loaded up with carbs as a replacement. Use fresh ingredients whenever possible and make as much as you can from scratch. Packaged foods contain lots of sodium and fat.
Low Fat Cheese Sauce
Ingredients: black pepper, dry mustard, salt, all-purpose flour, margarine, skim milk, Cheddar cheese
Hide Dish Data™ ▼
Nutrition per tablespoon:
21 calories, 1g fat, 1g carbs, 2g protein. Recipe is: Low in sodium.
Low-Fat Chocolate Sour Cream Cake
2 reviews

Ingredients: cocoa powder, egg, sour cream, sugar, all-purpose flour, baking soda, salt
oven
Show Dish Data™ ▼
Curried Chicken & Pasta Salad
2 reviews

Ingredients: ground red pepper, ground cinnamon, turmeric, mango chutney, plain yogurt, mayonnaise, curry powder, almonds, shell pasta, cooked chicken
stovetop
Tropical Smoothie
Ingredients: ripe mango peeled, pitted and diced, ripe papaya peeled and diced, kiwi fruit peeled and diced, banana peeled and diced, lowfat plain or vanilla yogurt
Show Dish Data™ ▼
Lower Fat Pumpkin Bread
Ingredients: all-purpose flour, baking powder, ground allspice, ground cinnamon, ground nutmeg, salt, baking soda, ground cloves, brown sugar, fat-free milk
Curtido Salvadoreno (El Salvador)
2 reviews

Ingredients: brown sugar, salt, olive oil, oregano, dried red pepper, onion, carrots, cabbage, vinegar, water
stovetop
Show Dish Data™ ▼
Fat Free Oatmeal Raisin Cookies
5 reviews

Ingredients: corn syrup, egg whites, cinnamon, baking soda, baking powder, salt, sugar, quick-cooking oats, flour, vanilla extract
oven
Show Dish Data™ ▼
Weight Watcher Cobbler
2 reviews

Ingredients: yellow cake mix, frozen fruit, diet lemon-lime carbonated beverage
oven
Show Dish Data™ ▼