Low Carb Eating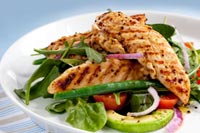 Hundreds of low carbohydrate recipes including entrees, side dishes and desserts. Recipes include mashed cauliflower, peanut butter cookies, and low-carb pound cake. Perfect for low carb diets like Atkins, South Beach Diet, the Zone and more
Basic Low Carb Cheesecake
Made with sour cream, egg yolk, cream cheese, sugar substitute, vanilla extract, lemon juice, eggs
oven
Low Carb Moussaka
Made with black pepper, salt, nutmeg, cinnamon, sugar substitute, butter, tomato sauce, Parmesan or Romano cheese, eggs
stovetop, oven
Salmon with Blue Cheese
Grilled salmon is topped with a creamy blue cheese sauce. A strange sounding combination but the results are delicious.
outdoor grill
Baked Lamb Chops
Made with paprika, black pepper, garlic, olive oil, loin lamb chops, sour cream, vinegar, Worcestershire sauce, salt
oven, stovetop
Low Carb Fries
Looking for a low carb alternative to French fries? Try these fries made from rutabagas. They are steamed until just tender then pan fried until golden brown.
stovetop
Bacon-Stuffed Eggs
Made with parsley, paprika, bacon, hard-cooked eggs, mayonnaise, butter, brown mustard