home > recipes > everyday cooking > pantry meals > pasta
Easy Pasta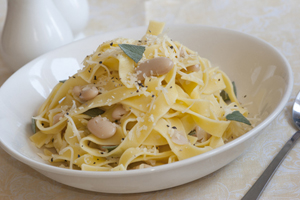 jump to the recipes

Pasta plus a few easy ingredients means you'll have dinner on the table in no time with these recipes. Grab a can, open a box - and the pasta is ready!
Cheddar Chicken Spirals
10 reviews
Use up leftover cooked chicken in this simple casserole dish made with spiral pasta, mayo, mixed veggies, and cheddar cheese.
microwave, stovetop
Meat Lovers Pizza Casserole
1 review
All your favorite pizza ingredients baked into a hearty casserole.
oven, stovetop
Perogies
3 reviews
Made with bacon, frozen perogies, onions
stovetop, crock pot
Beef And Pasta Alfredo
3 reviews
Made with fresh basil, penne pasta, ground beef, green onions, Alfredo sauce, plum tomatoes
stovetop
Cheesy Chicken Noodle Bake
5 reviews
Made with black pepper, chicken broth, chunk chicken, egg noodles, Colby-Jack Cheese, poultry seasoning, salt
stovetop, oven
Baked Ravioli And Meatballs
1 review
Made with dry Italian seasoning, mozzarella cheese, frozen cheese ravioli, frozen cooked 1" meatballs, pasta sauce
oven
Jim's Tex-Mex Chili Mac
2 reviews
Made with ground beef, onion, Mexican or chili style stewed tomatoes, chili beans, water, elbow macaroni or small shells, taco seasoning mix, tomato paste, Cheddar cheese
crock pot, stovetop
Chili Mac
Made with elbow macaroni, red kidney beans, ground beef, onion, tomatoes, tomato soup, tomato juice, chili seasoning
crock pot
Fajita Linguine
1 review
Made with fresh cilantro, roma tomatoes, linguine, butter, chicken tenders, fajita seasoning mix, water, bell peppers, onion
stovetop
Baked Ravioli And Sausage
Made with mozzarella cheese, bulk hot Italian sausage, spaghetti sauce, frozen cheese ravioli, sliced mushrooms
stovetop, oven
All-Day Ravioli Stew
2 reviews
Made with ravioli, carrots, onions, vegetable broth, diced tomatoes, cannellini beans
crock pot
Overnight Meatball And Pasta Casserole
2 reviews
Made with fresh parsley, mozzarella cheese, (16 ounce size) frozen precooked Italian meatballs, frozen bell pepper and onion stir-fry -- large pieces cut up, uncooked mini lasagna noodles (mafalda)