Cooking From The Pantry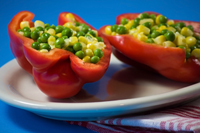 These "half homemade" recipes won't leave you flustered with an over-abundance of ingredients. Our quick and easy recipes make use of items from your pantry and freezer - getting food on the table in a snap!
Budget Cube Steak
Made with water, onion soup mix, cube steaks, cream of mushroom soup
crock pot
Homemade Chili
Made with black pepper, ground beef, onion, garlic, tomatoes, kidney beans, tomato paste, chili powder, sugar, salt
crock pot, stovetop
Chicken And Noodles
Made with egg noodles, chicken broth, boneless, skinless chicken breasts, cream of chicken soup
crock pot
Three Envelope Roast
Made with water, ranch salad dressing mix, brown gravy mix, Italian salad dressing mix, beef roast
crock pot
Chicken and Green Bean Bake
Boneless chicken is cooked with cream of mushroom soup, green beans, and topped with French fried onions.
crock pot
Easter Ham
Not overly sweet, not overly salty, this crock pot ham recipe is ideal for Easter or any time. Bonus: clean up is a breeze!
crock pot
Hashbrown Casserole
Made with butter, sour cream, hash brown potatoes, Cheddar cheese soup, cream of mushroom soup
crock pot
Ground Beef And Rice Casserole
An easy family favorite. Ground beef is mixed with onion soup mix, cream of mushroom soup, onion, and rice and baked in a casserole dish until done.
oven
Cheddar Chicken Spirals
Use up leftover cooked chicken in this simple casserole dish made with spiral pasta, mayo, mixed veggies, and cheddar cheese.
microwave, stovetop
7-Up Cobbler Bake
A delicious dessert with only three ingredients. Cherry pie filling is topped with dry yellow cake mix and 7-up soda is poured over the top then baked until done.
oven
Almost Heaven Cake
A yellow cake is baked and topped with crushed pineapple, vanilla pudding, cream cheese, and Cool Whip.
oven