BROWSE
RELATED
Cooking From The Pantry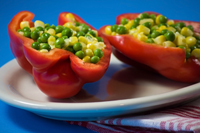 These "half homemade" recipes won't leave you flustered with an over-abundance of ingredients. Our quick and easy recipes make use of items from your pantry and freezer - getting food on the table in a snap!

view all pantry meals recipes
Pantry Meals
The Backup Plan
We all need a backup meal when dinner plans go awry. You can find inspiration in your pantry. Think of those boxes of pasta, cans of beans and jars of salsa as dinners in waiting.
Pantry Tip

Take stock of your pantry. Rotate items to use older items first. Search for recipes to use up ingredients that have been on the shelf for a while. Don't buy ingredients in larger sizes unless you know you'll actually use them. You don't save money if you end up just throwing them away.
Newest Pantry Meals Recipes

Beef Tips With Fried Rice
Submitted by: ChocoJack

Vanilla Pudding Cookies
Submitted by: hotchef

Chicken And Stuffing Casserole
Submitted by: GRIFFIN
Top Pantry Meals Recipes

Pork Chops In Cream Of Mushroom Soup
Submitted by: tweets2704

Hashbrown Casserole
Submitted by: supersalad

Budget Cube Steak