Kid-friendly Hot Dogs, Brats and Sausage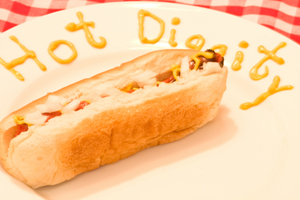 jump to the recipes

Hot dogs and bratwurst are a classic summer food for kids. They are easy to eat and can be dressed up to suit their individual tastes.

But they aren't just meant to be eaten on buns. We've got all kinds of fun recipes like hot dog pie, corndog casserole, and pigs in a blanket. So have some fun using these kid-favorites in new ways.
Quick and Easy Pigs in a Blanket

4 reviews
Made with crescent roll dough, hot dogs or smoked sausage
oven
Hash Brown Hot Dog Casserole

1 review
Made with cracker crumbs, sour cream, cream of mushroom soup, butter, onion, cheddar cheese, hash brown potatoes, hot dogs, black pepper, salt
oven
Baked Corn Dogs
Made with American cheese, margarine, biscuit baking mix, milk, hot dogs
oven
Coney Island Hot Dogs
Made with hot dog buns, hot dogs, ground beef, onion, tomato sauce, chili powder, Worcestershire sauce, dried oregano, hot pepper sauce
stovetop
Hot Dog and Potato Casserole

1 review
Made with black pepper and spices, potatoes, hot dogs, velveeta cheese, milk, mushroom soup, onion
stovetop, oven
Chili-Dog Wraps
Made with corn or flour tortillas, hot dogs, chili, salsa, cheddar or Monterey jack cheese
oven, microwave
Corn Dog Casserole
Made with ketchup & mustard, non-stick cooking spray, hot dogs, egg, milk, thyme, black pepper, cornbread mix
oven, stovetop
Doughboys
Made with hot dog, water, salt, shortening, baking powder, flour
Baked Hot Dogs
Made with hot dog buns, salt, prepared mustard, ketchup, pickle, hard cooked eggs -- chopped, cheese, hot dogs -- chopped fine
Pigs in a Blanket

1 review
Made with milk or buttermilk, biscuit mix, hot dogs