home > recipes > everyday cooking > canning and preserving > orange jam
Orange Jam, Jelly and Preserves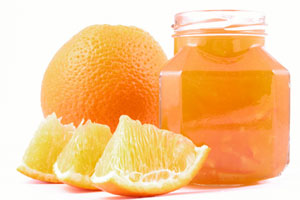 jump to the recipes

Jam is a thick, sweet spread made by cooking crushed fruit with sugar. It's firmer than jelly but used much in the same way. It can be made from a variety of fruits, including oranges.

Sweet oranges, commonly found in the grocery store, are often used in jams, jellies and preserves. Bitter oranges which are too bitter to eat raw also make great jam or marmalade.

The orange flavor pairs well with other fruits such as cranberries, pears, or other citrus flavors. While most of our recipes call for fresh oranges we have one great shortcut recipe that uses frozen orange juice concentrate. A few of the recipes call for pectin to thicken the preserves but most in this collection are made without it.

Uses for the jam include spreading on toast or muffins, as a fruit filling in between cake layers, or even heated up and used as a syrup on desserts or pancakes.
Really Quick Orange Marmalade
3 reviews 1 comment
Made with orange, sugar
microwave
Cranberry-Orange Jam
1 review
Made with cranberries, water, orange juice, lemon juice, sugar, liquid pectin
stovetop
Old Fashioned Orange Marmalade
1 review 3 comments
Made with sugar, water, oranges, lemon
stovetop
Cranberry-Orange Marmalade
Made with brandy, orange peel, sugar, water, ground cloves, cranberries, orange marmalade, Grand Marnier
stovetop