Turkey Dishes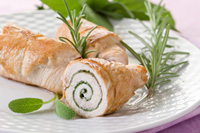 Turkey, a large poultry bird, is rich in protein, niacin, vitamin B12, vitamin B6, zinc, and copper; a source of iron, vitamins B1, B2, and folate. It is low in fat making it a healthy meal choice. It is often interchangeable with chicken, and ground turkey is a good substitute for ground beef. Turkey, it's not just for Thanksgiving!
Slow Roasted Turkey
Made with butter, white pepper, turkey, salt, dried thyme, black pepper, dried basil, cayenne pepper
oven
Apple Brined And Hickory Smoked Turkey
Turkey is brined in a mixture of apple juice, brown sugar, salt, oranges, ginger, cloves, garlic, and bay leaves. To further enhance the flavor it's cooked in a smoker with hickory chips.
outdoor grill
Maple Bacon Roast Turkey
Voted the best Thanksgiving turkey ever (by CDKitchen staff). The turkey is covered in slices of bacon and basted with maple syrup while roasting. Heavenly!
oven
Basic Turkey Meatloaf
Made with ground turkey, onion, dry onion soup mix, garlic, ketchup, chili sauce, salsa or tomato sauce or paste, egg, breadcrumbs, Worcestershire sauce, salt and pepper
oven
Popeye's Cajun Fried Turkey
Made with peanut oil, kosher salt, garlic pepper, white pepper, cayenne pepper, onion powder, salt, butter
stovetop, deep fryer
Turkey In Cream Sauce
Made with salt, half-and-half cream or milk, cornstarch, white wine or chicken broth, onion, garlic, bay leaves, dried rosemary, black pepper, turkey breast tenderloins
stovetop, crock pot
Baked Penne With Sausage
Made with Parmesan cheese, penne pasta, Italian turkey sausage, onion, garlic, crushed tomatoes, diced tomatoes, mozzarella cheese
oven, stovetop
Apple Brined Turkey
Made with bay leaves, whole cloves, ground ginger, turkey, apple juice or cider, brown sugar, kosher salt, water, orange juice
oven, stovetop
Turkey Tenderloin And Wild Rice
Made with turkey tenderloin, dry sherry or dry white wine, wild rice, carrot, onion, celery, seasoned salt, garlic pepper, dried marjoram, chicken broth
crock pot