home > recipes > meals / dishes > desserts > trifle
Trifles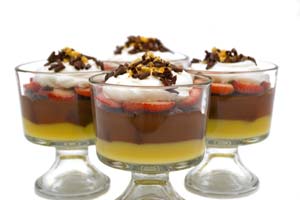 jump to the recipes

This English dessert dates back to the Victorian age. It is made from sponge cake, lady fingers, or biscuits that are soaked in sherry (or other liquor or even fruit juice). The cake is layered with custard and whipped cream (and sometimes jam). It is best served in a glass bowl so the attractive layers are visible. The trifle can be topped with candied or fresh fruit, nuts, or grated chocolate.

In Colonial times the trifle was also known as "tipsy parson" or "tipsy squire". The Italian version is called zuppa ingelse, meaning "English soup" and the Spanish version is bizcocho borracho, meaning "drunken cake".

In place of the sponge cake you can also use angel food cake, brownies, or regular cake (either from scratch or from a mix). Many modern trifle recipes use pudding in place of custard and pie filling in place of the jam. It's sometimes called punch bowl cake because it can easily be made in a glass punch bowl for large groups making for a nice presentation (and easy to serve). The trifle usually needs to be refrigerated for a few hours for the cake layers to soak up some of the filling.