home > recipes > meals / dishes > rice dishes > spanish rice
Spanish Rice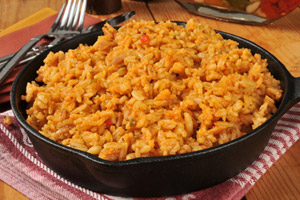 jump to the recipes

Spanish rice isn't really Spanish. Most likely the name has developed from the fact that the Spanish language is spoken in Mexico - because this is actually a Mexican rice dish.

The Mexican/Spanish rice we know in the US seems to be based on a classic Mexican dish called sopa seca. Sopa means soup in Spanish, and seca means dry - so this is a "dry soup". Sopa seca is made from rice, vermicelli or tortilla strips that are combined with tomatoes, onions, garlic and is simmered in a broth until the liquid is absorbed.

The Spanish rice we're most familiar with here usually contains white rice, chicken broth, diced tomatoes or tomato sauce, chopped peppers, onions, and garlic. Of course, there are tons of variations including everything from brown rice to cheese to ground beef. You even have cooking method options including the traditional way of cooking it on the stovetop, oven baked, or in the crockpot. The dish, assuming you don't want to remain true to its origins, is very flexible and ingredients and spices can be tailored to suit your family's tastes. Spanish rice goes well as a side dish with other Mexican favorites like enchiladas or burritos.
Spanish Rice For A Crowd
7 reviews 5 comments
Made with rice, dehydrated onions, green bell pepper, vegetable oil, bacon bits, diced tomatoes, sugar, salt, black pepper, chili powder
oven, stovetop
Quicker Spanish Rice
2 reviews
Made with margarine, salsa, water, instant rice
stovetop
Cheesy Mexican Rice
1 review
Made with chicken broth, salsa, instant white rice, American or Velveeta cheese
stovetop
Spanish Rice With Beef
Made with rice, ground chuck or beef, onion, green bell pepper, tomatoes, tomato sauce, water, chili powder, salt, Worcestershire sauce
crock pot, stovetop
Baked Spanish Rice
2 reviews 1 comment
Made with ground meat, herbs, rice, water or stock, tomatoes, garlic, onion, green or red bell pepper, spice, hot pepper
stovetop
Baked Mexican Rice
2 reviews
Made with water, tomatoes, vegetable oil, onion, green bell pepper, garlic, chili powder, cumin, kosher salt, white rice
oven, stovetop
Mexican Restaurant Rice
2 reviews
Made with fresh cilantro, diced tomatoes, salt, white rice, white onion, canola oil, garlic, chicken broth, tomato paste, green chiles
oven, stovetop
Quick Leftover Spanish Rice
4 reviews 1 comment
Made with cayenne pepper, black pepper, onion, garlic, green bell pepper, olive oil, rice, tomato sauce, salt, paprika
stovetop
Classic Mexican Rice
11 reviews 1 comment
Made with monterey jack cheese, long grain rice, oil, onion, garlic, salt, chili powder, tomato sauce, water or canned chicken broth
stovetop, microwave
Vegetarian Spanish Rice
Made with olive oil, tequila, salt, long grain brown rice, tomato, onion, chili powder, jalapeno or habanero pepper, vegetable broth
stovetop
Spanish Rice with Bacon
1 review
Made with salt, chili powder, jalapeno peppers, bacon, canola or vegetable oil, onion, long grain rice, water, tomatoes, green bell pepper
stovetop
Spanish Fried Rice
Made with olive oil, saffron powder, onion, celery, green bell pepper, red bell pepper, garlic, tomato sauce, chili powder, sugar
stovetop