home > recipes > meals / dishes > soups & salads > soups > vegetable soup
Vegetable Soups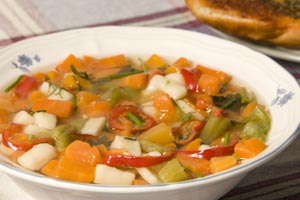 Delicious vegetable soup recipes - can be hearty and filling as a main course, or light for a first course. Favorites include French Onion, Broccoli Cheese Soup, Spinach Soup, and Mushroom Barley.
featured vegetable soup recipe
Made with salt, dried oregano, carrot, onion, garlic, broth, cabbage, green beans, tomato paste, dried basil
view recipe
Get our best recipes delivered right to you!
Sign up for our newsletters that feature hand-picked recipes
search the vegetable soup recipes