home > recipes > meals / dishes > soups & salads > soups > meat and poultry soup > turkey soup
Turkey Soups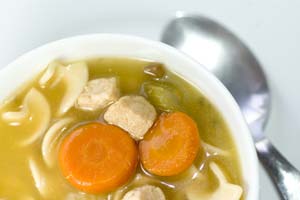 jump to the recipes

Turkey soup is a great way to use up a turkey carcass and leftover turkey meat after a holiday meal. Try recipes like turkey noodle soup or a hearty chowder.
Turkey Soup
5 reviews
Made with turkey stock, stewed tomatoes, celery, carrots, onion, potatoes, corn, green beans, bay leaves, turkey
crock pot
Turkey-Barley Soup
2 reviews
Made with turkey or chicken broth, bay leaf, turkey, dried thyme, pearl barley, dried marjoram, onion, black pepper, celery, fresh parsley
crock pot, stovetop
Easy Turkey Soup
2 reviews
Made with elbow macaroni pasta, black pepper, poultry seasoning, turkey, water, celery, frozen mixed vegetables, chicken broth
stovetop
Turkey, Wild Rice and Pumpkin Soup
3 reviews
A perfect post-Thanksgiving recipe. Goes great alongside a turkey sandwich. The soup is made with broth, canned pumpkin, leftover cooked turkey, vegetables, wild rice, half and half and seasoned with salt and cinnamon.
stovetop
Turkey and Rice Soup
4 reviews
Made with onion, turkey, water, chicken bouillon granules, salt, bay leaf, poultry seasoning, white pepper, carrots, corn
stovetop
Egg Drop Turkey Soup
Made with onion, red bell pepper, garlic, kosher salt, black pepper, bay leaves, fresh thyme, fresh sage, zucchini, chicken stock
stovetop
Creamy Turkey Soup
10 reviews
Made with white pepper, salt, carrots, turkey, turkey broth, evaporated milk, flour, new potatoes, celery, green onions
stovetop
Neckbone Soup
Made with yellow onions, bay leaves, turkey neckbones, frozen corn, frozen peas, frozen okra, frozen lima beans, stewed tomatoes, seasoned salt, black pepper
stovetop
Turkey Broth from Carcass
1 review
Made with water, marjoram, basil, turkey carcass, celery, carrots, bay leaves
crock pot
Creamy Turkey Chowder
3 reviews
Made with milk, cooked turkey, celery, onion, margarine, turkey broth, potatoes, salt, white pepper, cayenne pepper
stovetop
Turkey Soup Using the Carcass
2 reviews
Made with diced tomatoes, vegetables, turkey carcass, onion, water, carrot, celery, bay leaf, salt, peppercorns
stovetop
Turkey, Tomato, Mushroom Soup
1 review
Made with ground turkey or chopped cooked turkey, black pepper, oregano, basil, beef bouillon, water, tomato sauce, soy sauce, celery, carrots
crock pot