home > recipes > meals / dishes > soups & salads > soups > ethnic-style soups > tortellini soup
Tortellini Soups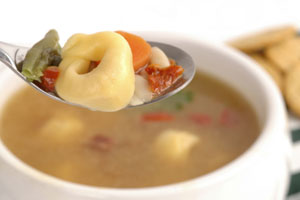 jump to the recipes

Soups are a great lunch, precursor to a meal, or even a light dinner. They are usually pretty simple to prepare and often only require one pan for cooking the entire thing.

Tortellini soup is nice because the pasta adds a little extra heartiness to the soup making it more filling and satisfying. While you can of course make tortellini from scratch, most recipes call for refrigerated, dried, or frozen pasta to keep things simple. Tortellini can be filled with cheese for a vegetarian option or with meat like chicken, sausage, or bacon.

The broth in the tortellini soups can vary from a light chicken broth to a hearty cream soup to a rich tomato-based mixture. Other ingredients will be widely varied as well including meats like chicken or meatballs and veggies like onions, bell peppers, mushrooms and tomatoes. You'll see we have recipes for both stove-top and crockpot versions of this soup.
Tortellini Soup
2 reviews
Made with garlic pepper, cheese tortellini, corn, vegetable or chicken broth, leek, garlic, fresh basil, tomatoes, red bell pepper, zucchini
crock pot
Chicken Tortellini Soup
1 review
Made with Parmesan cheese, dry tarragon, white rice, chicken broth, cheese tortellini, spinach, boneless skinless chicken breasts, mushrooms, red bell pepper
stovetop
Italian Sausage And Tortellini Soup
4 reviews
Made with Italian sausage, onion, garlic, diced tomatoes, beef broth, dry red wine, red bell pepper, carrots, frozen chopped spinach, dried basil
stovetop
Too-Easy Tortellini Soup
1 review
Made with black pepper, Parmesan cheese, chicken broth, refrigerated cheese tortellini, white kidney or cannellini beans, Italian diced tomatoes, dried basil, red wine vinegar
stovetop
Creamy Tortellini Soup
Made with vegetable broth, mushrooms, onion, garlic, dried basil, salt, dried oregano, cayenne pepper, dried cheese tortellini, evaporated milk
crock pot
Italian Meatball Soup With Tortellini
Made with onions, carrots, chicken broth, fresh or frozen cheese tortellini, dried basil, crushed red pepper, zucchini, Swiss chard or spinach, black pepper, Parmesan cheese
stovetop
Tomato Tortellini Soup
2 reviews
Made with garlic, celery, red bell peppers, baby spinach, roma tomatoes, corn, tomato sauce, chicken stock, dried basil, dried oregano
Pizza Tortellini Soup
Made with Parmesan cheese, sliced pepperoni, cut in half, beef or chicken broth, (14 oz size) Italian style stewed tomatoes, undrained and chopped, pizza sauce, cheese tortellini
Tortellini Vegetable Soup
2 reviews
Made with tomatoes, chives, dried thyme, dried basil, diced uncooked potatoes, each frozen corn, sliced carrots and cut green beans, beef broth, vegetable oil, celery, onion
Homemade Tortellini in Broth
Made with chicken (or beef, or vegetable) broth, all-purpose flour, nutmeg, chicken breast, butter, salt and pepper, mortadella, grated pecorino Roman cheese (or Parmesan), divided, ricotta cheese