Soups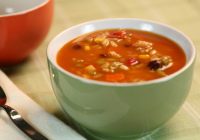 Soup can be served as a main dish, side dish or a first course appetizer. Have a cold? Try the tried and true cure of chicken noodle soup. Looking for a hearty meal? Try a delicious bean soup. Soup can be as easy as opening a can and adding a few extra ingredients or you can create soup from scratch. Check out the variety of recipes!
Panera Bread Broccoli Cheese Soup
Panera is known for their delicious soups and this recipe is no exception. It's made with fresh broccoli and lots of cheddar cheese.
stovetop
Olive Garden Pasta E Fagioli
Made with oil, ground beef, onion, carrots, celery, tomatoes, red kidney beans, white kidney beans, beef stock, oregano
stovetop
Charles' Cream of Crab Soup
Made with milk, pepper, salt, cornstarch, crab meat, parsley, Old Bay Seasoning, butter, heavy whipping cream, half and half
stovetop
Bayou Gumbo
Sausage, shrimp, okra and rice provide all the great flavors of a classic Louisiana style gumbo in this recipe but with the ease of the crock pot.
crock pot, stovetop
Jerri's Vegetarian French Onion Soup
Made with Swiss cheese, Parmesan cheese, butter, white onions, all-purpose flour, vegetable stock, salt and freshly ground black pepper, olive oil, garlic powder, French bread
stovetop, oven
Chicken Tortilla Soup
Made with tomatoes, enchilada sauce, onion, green chilies, garlic, water, chicken broth, cumin, chili powder, salt
oven, crock pot
Chili's Chicken And Green Chili Soup
Made with cilantro, cumin, boneless, skinless chicken breasts halves, chicken broth, Rotel tomatoes, green chiles, onion, olive oil, garlic, lime juice
stovetop, oven
Cream of Chanterelle Mushroom Soup
Made with fresh parsley, Madeira wine, white pepper, butter, onion, chanterelle mushrooms, flour, chicken broth, half and half, salt
stovetop