home > recipes > meals / dishes > soups & salads > soups
Soups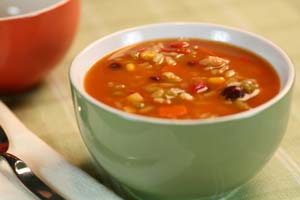 Soup can be served as a main dish, side dish or a first course appetizer. Have a cold? Try the tried and true cure of chicken noodle soup. Looking for a hearty meal? Try a delicious bean soup. Soup can be as easy as opening a can and adding a few extra ingredients or you can create soup from scratch. Check out the variety of recipes!
featured soup recipe
Made with fish sauce, coconut milk, water, chicken, mushrooms, galangal root, lemongrass, kaffir lime leaves, thai chilies, lime juice
view recipe
Get our best recipes delivered right to you!
Sign up for our newsletters that feature hand-picked recipes