home > recipes > meals / dishes > soups & salads > soups > ethnic-style soups > pasta e fagioli soup
Pasta Fagioli Soup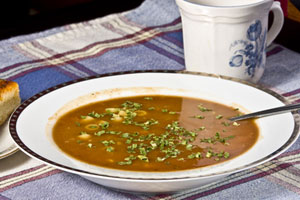 jump to the recipes

Whether you call it pasta fazool, pasta fazole, pasta e fagioli or pasta con fagioli it's all the same: pasta with beans soup! This peasant Italian dish is hearty and filling and oh so tasty!
Olive Garden Pasta E Fagioli
114 reviews 14 comments
A copycat version of The Olive Garden's famous recipe made with ground beef, vegetables, red and white kidney beans, beef stock, spaghetti sauce, and shell pasta.
stovetop
Pasta Fagioli Soup
2 reviews
Made with ditalini pasta, onion, olive oil, garlic, tomato sauce, chicken broth, dried basil, dried oregano, salt, cannellini beans
stovetop, crock pot
Pasta Fazool
Made with water, flour, olive oil, garlic, onion, celery, carrots, butter, tomatoes, parsley
stovetop
Pasta Fagioli Soup
Made with Parmesan cheese, zucchini, tomatoes, garlic, rosemary, chicken stock, white kidney beans, rotini pasta
stovetop
Pasta Fazole
Made with pasta, olive oil, butter, celery, green pepper, sweet onion, chicken broth, garlic, canneloni beans, crushed tomatoes
stovetop
Italian Bean And Pasta Soup
Made with olive oil, pancetta, yellow onion, carrots, celery, garlic, water or chicken stock, diced canned plum tomatoes, salt, ground pepper
stovetop
Pasta Fagioli Soup Mix
Made with dried parsley, sugar, celery salt, sweet pepper flakes, chicken bouillon granules, dried Italian seasoning, salt, paprika, garlic powder, black pepper
Pasta Fagiole With Italian Sausage
Made with Italian sausages, tomato sauce, water, cannellini beans, oregano, salt and freshly ground black pepper, basil, mozzarella cheese, ditalini or elbow macaroni, parsley
stovetop
Pasta And Bean Soup
Made with cayenne flakes, tomato paste, water, olive oil, garlic, fresh rosemary, sage, dried Cannellini beans (or white beans)
Pasta E Fagioli With Spring Peas
Made with canned whole tomatoes -- chopped, with juice, canned white beans -- drained and rinsed, bay leaf, dried thyme, kosher salt, red pepper flakes, yellow onions, garlic, pancetta -- finely