home > recipes > meals / dishes > dinner meals > stews > meatless
Meatless and Vegetarian Stews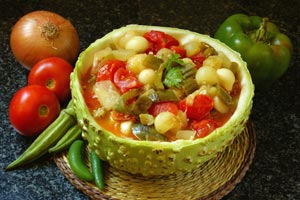 jump to the recipes

A stew is essentially any dish that is prepared by the cooking method of stewing. Usually this term applies to recipes that include meat (beef, chicken, pork) but it can also apply to meatless or vegetarian stews.

Stewing is when you just cover the food with liquid and simmer it for a very long time. The long cooking time helps the flavors blend. When cooking a vegetable only stew, typically this cooking time is reduced.

Meatless stews typically get their hearty texture from beans or potatoes. Sweet potatoes work very well with this cooking process. These stews can be served as a main course, a vegetarian alternative, or a side dish or lunch meal.
Spinach Stew (Central African Republic)
1 review
Made with chili peppers, salt, onions, oil, tomatoes, green bell pepper, fresh spinach, frozen spinach
stovetop
Vegetarian Bean And Brown Rice Stew
1 review 3 comments
Made with onion, garlic, green bell pepper, green cabbage, potatoes, chili powder, tomatoes, cumin, water or vegetable broth, brown rice
crock pot
Vegetarian Posole
Made with salt, hominy, onion, garlic, mushrooms, carrots, celery, bell pepper, squash, tomatoes
stovetop, crock pot
Very Veggie Dumpling Stew
Made with fresh green beans, baby carrots, celery, sage, salt, pepper, flour, baking powder
crock pot, stovetop
Italian Tortellini Stew
4 reviews
Made with cheese-filled tortellini, black pepper, salt, onion, zucchini, chicken broth, crushed tomatoes, Great Northern beans, dried basil
crock pot
Eggplant Stew
Made with salt, paprika, cayenne pepper, Eggplant -- peeled & cubed, tomatoes, green bell peppers, onions, olive oil
Eggplant-Tomato Stew with Garbanzo Beans
2 reviews
Made with tomato, carrot, garbanzo beans, red kidney beans, onion, celery, garlic, vegetable broth, tomato paste, dried oregano
crock pot
Aduki Bean Stew
1 review
Made with soya margarine, onion, garlic, leek, carrot, mushrooms, sweet paprika, wholemeal (wholewheat) flour, hot sauce, dark vegetable stock powder
stovetop
Sweet Potato Lentil Stew
Made with cayenne pepper, olive oil, vegetable broth or chicken broth, sweet potatoes, lentils, carrots, onion, garlic, cumin, ground ginger
crock pot
African Stew
Made with lemon juice, vegetable stock, onion, garlic, yams, chickpeas, brown rice, salt, peanut butter, kale
stovetop
Wheat Berry Stew
Made with green bell peppers, marinara sauce, Great Northern beans, wheat berries, potatoes, onion, garlic, cumin, turmeric, black pepper
crock pot