home > recipes > meals / dishes > soups & salads > soups > ethnic-style soups > gumbo
Gumbo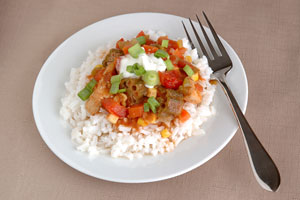 jump to the recipes

Gumbo comes to us from Louisiana and is part of the states foodie heritage. Gumbo is made up from a rich stock and can have a variety of vegetable and meat ingredients but the "holy trinity" of vegetables (onions, celery, and bell pepper) is considered to be most authentic. Protein in the gumbo can be anything from shrimp, to sausage, to chicken. You'll even find alligator gumbo. The gumbo is thickened with one of three things: file powder (ground sassafras leaves), roux, or okra (a vegetable known for its thickening agent). Gumbo, like chili and barbecue sauce, has strong believers in "right" and "wrong" ways to make it. Our suggestion is to try some recipes and see what you like!
Bayou Gumbo
11 reviews 2 comments
Sausage, shrimp, okra and rice provide all the great flavors of a classic Louisiana style gumbo in this recipe but with the ease of the crock pot.
crock pot, stovetop
Cajun-Style Fish Gumbo
3 reviews
Made with tomatoes, salmon filet, okra, bay leaf, tilapia filet, real or imitation seafood mix, black pepper, salt, hot sauce
stovetop
New Orleans Shrimp Gumbo
2 reviews
Don't let let the lengthy recipe directions scare you off, this is the best gumbo you'll ever have.
stovetop
Cajun Andouille Sausage and Shrimp Gumbo
4 reviews 1 comment
Made with green bell pepper, red bell pepper, yellow bell pepper, bay leaves, oregano, cayenne, clam juice, diced tomatoes, Andouille sausage
stovetop
Alligator or Crocodile Gumbo
Made with butter, parsley, green onions, garlic, red bell pepper, celery, green bell pepper, okra, stewed tomatoes, cayenne pepper
stovetop
Andouille Sausage Gumbo
5 reviews
Made with celery, garlic, andouille sausage, chicken broth, Cajun spice, dried thyme, bay leaves, black pepper, salt, frozen sliced okra
stovetop
New Orleans File Gumbo
2 reviews 1 comment
Made with basil, bay leaves, thyme, file powder, chicken stock, beef stock, bay scallops, shrimp, Worcestershire sauce, salt and pepper
stovetop
Smoked Sausage Gumbo
4 reviews
Made with dried oregano, chicken broth, diced tomatoes, all-purpose flour, olive oil, Polish sausage, onion, green bell pepper, celery, carrot
stovetop, crock pot
Eggplant Gumbo
1 review
Made with salt and pepper, chicken stock, jalapeno peppers, diced (or to taste), fresh rosemary, green bell pepper, celery, onion, pods fresh okra, sliced, tomato, eggplant
Shrimp, Crab, And Fish Gumbo With Pumpkin
Made with flour, fresh okra, onion, celery, green bell pepper, garlic, tomatoes, thyme, parsley, bay leaves
stovetop
Spicy Cajun Gumbo
4 reviews
Made with chicken broth, tomatoes, Worcestershire sauce, Cajun seasoning, onion, green bell pepper, red bell pepper, corn, garlic, olive oil
stovetop, crock pot
Louisiana Gumbo
1 review
Made with onions, flour, garlic, water, parsley, salt and pepper, bell pepper, meat, celery
stovetop