BROWSE
RELATED
Cook Time
Cook Method
Recipe Newsletter
Chili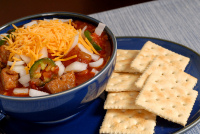 Chili is one of those recipes that is loved by everyone. There is a long standing debate as to whether "real" chili contains beans or not. We say, who cares! With these great recipes it doesn't matter, simply fix what you like and it will be loved by all. We have recipes for spicy or mild, with beans or without, with meat or vegetarian, and so many other chili varieties.
Steak And Black Bean Chili
Ingredients: tomato sauce, stewed tomatoes, chopped green chilies, olive oil, dried Mexican oregano, ground cumin, chili powder, flank steak, garlic, onions
crock pot
Wendy's Chili
1 review

Ingredients: cumin, chili powder, green bell pepper, celery, onion, red beans, tomato puree, tomato juice, ground beef, garlic powder
stovetop
Show Dish Data™ ▼
Homemade Chili
4 reviews

Ingredients: salt, sugar, chili powder, tomato paste, kidney beans, tomatoes, garlic, onion, ground beef, black pepper
stovetop, crock pot
Show Dish Data™ ▼
White Chicken Chili
"A savory delight! This slow cooked chili isn't just yummy, it's also a prize winner. It uses chicken thighs which stay more tender and moist than white meat chicken. It's a mild chili using only a small amount of hot sauce, so feel free to dress it up if you wish."
Ingredients: red pepper sauce, salt and pepper, oregano, cumin, chicken broth, garlic, onion, skinless chicken thighs, great northern beans, corn
crock pot
Show Dish Data™ ▼
Award Winning Chili
"Another win for this great recipe. First time using this recipe and the company chili championship is mine. Great stuff. -CHILI CHAMP"
Ingredients: chili powder, New Mexico chile, chile negros, ancho chiles, garlic, onion, green bell pepper, red bell pepper, poblano peppers, jalapeno pepper
stovetop
Show Dish Data™ ▼
Easy White Chicken Chili
Ingredients: cayenne pepper, chili powder, ground cumin, salt, oregano, onion, garlic, diced tomatoes with green chilies, great northern beans, chicken broth
stovetop, crock pot
Show Dish Data™ ▼
$20000 Prize Winning Chili
13 reviews

Ingredients: ground coriander, cocoa powder, sugar, paprika, dried oregano, beef-flavor instant bouillon, cumin, chili powder, water, tomato sauce
stovetop
Show Dish Data™ ▼
Ruby Tuesday's White Chicken Chili
3 reviews

Ingredients: garlic, cayenne pepper, cumin, oregano, chili peppers, jalapeno peppers, chicken, onions, great northern beans, chicken stock
stovetop
Show Dish Data™ ▼
Chili's Southwest Chicken Chili
9 reviews

Ingredients: white beans, green chiles, tomatillos, ground oregano, ground red pepper, freshly-minced cilantro, dried basil, ground paprika, chili powder, cumin
stovetop
Show Dish Data™ ▼
Al Roker's Spectacular Chili
4 reviews

Ingredients: Northern beans, pinto beans, crushed tomatoes, chili powder, paprika, cumin, garlic, onions, hot Italian sausage, chuck steak
stovetop
Show Dish Data™ ▼
Tomatillo Chicken Chili with White Beans
3 reviews

Ingredients: green chiles, white beans, tomatillos, salt, coriander, cumin, serrano pepper, garlic, white onion, ground chicken
stovetop
Show Dish Data™ ▼