home > recipes > meals / dishes > soups & salads > soups > alphabet soup
Alphabet Soup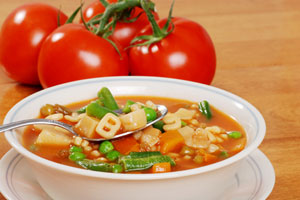 jump to the recipes

Kids love this fun soup full of the alphabet (and grownups think these are pretty tasty as well). See if you can spell out "delicious"
Alphabet Soup In Minutes Mix
Made with alphabet pasta, dried vegetable flakes, chicken bouillon granules, black pepper, fish-shaped crackers
Alphabet Vegetable Soup
Made with cooked beef or chicken (opt.), cubed, salt, alphabet macaroni, garden vegetable mix, thawed, vegetable juice cocktail, seasoned pepper, potatoes
Crossword Puzzle Soup
Made with Parmesan cheese, uncooked alphabet macaroni, green beans, (19 ounce size) ready-to-serve tomato basil soup, Italian Sausage links, cut into 1/2 inch slices.
Disney Alphabet Soup
Made with water, carrots, Rutabaga, diced, celery, onion, tomatoes, peas, Froz green beans, Pearl barley, cooked, cooled, Alphabet pasta, cooked, cool
ABC Meatball Soup
Made with turkey breast or lean ground beef, alphabet-shaped pasta, barbecue sauce or ketchup, oats, chicken broth, frozen mixed vegetables
stovetop, oven
Hearty Alphabet Beef Soup
1 review
Made with alphabet noodles, beef stew meat or round steak, stewed tomatoes, tomato sauce, water, onion soup mix, frozen mixed veggies
crock pot
Chicken Alphabet Soup
Made with uncooked small alphabet pasta, yellow mustard, carrot, reduced sodium chicken broth (14.5 oz. size), fresh or individually frozen boneless skinless chicken thighs
ABC Pasta Soup With Pureed Pumpkin
Made with zucchini, alphabet shaped pasta, water, chicken bouillon granules, white kidney, black, or garbanzo beans, Italian seasoning, pumpkin, corn
stovetop