home > recipes > meals / dishes > seasonings and spices
Homemade Seasonings and Spice Mixes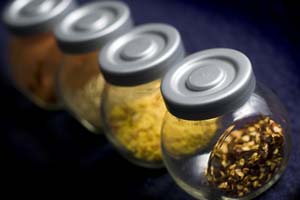 Spice and seasoning recipes to enhance your cooking and make some of your favorite spice blends at home

Fun Food Holiday: Herbs and Spice Day is June 10th.
featured seasonings and spices recipe
Made with chili powder, salt, garlic powder, onion powder, paprika, dried thyme, red pepper, black pepper, dried oregano, ground bay leaves
view recipe
seasonings and spices recipes
Seasoned salt is great on meats, fish, poultry, and even vegetables. Control the flavors by making your own with our selection of recipes.

view recipes

Caribbean seasonings often include black and red pepper, allspice, ginger, garlic, and cinnamon - all ingredients you probably already have on hand so whipping up your own spice blend is a snap!

view recipes

Need to cut down on your salt intake? One of the easiest ways is to skip the salt shaker and instead use herb blends to add flavor to your food. We have several recipes that will help you lower your sodium intake while keeping the flavor!

view recipes
Get our best recipes delivered right to you!
Sign up for our newsletters that feature hand-picked recipes
search the seasonings and spices recipes