home > recipes > meals / dishes > sauces and condiments > sauces > dipping sauce > sweet and sour
Sweet 'n Sour Sauces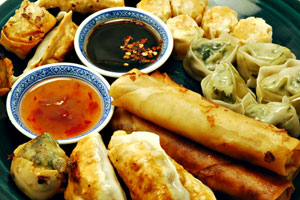 jump to the recipes

Sweet and sour sauce is a common condiment in Asian recipes. It's used as a cooking sauce in popular dishes like sweet and sour pork, but it's also for dipping foods in such as deep-fried shrimp or chicken, or egg rolls.

You can purchase it in jars at the grocery store but they contain all sorts of unnecessary artificial ingredients. It's actually incredibly easy to make it yourself at home. The basic formula contains something sweet and something pungent, usually sugar and vinegar, but there are a whole range of options you can use. You'll find lots of varieties in our recipe collection that use ingredients like orange juice, fruit preserves, crushed pineapple, and even horseradish sauce.

We even have a copycat version of McDonald's sweet and sour sauce that they famously offer with their Chicken McNuggets.
Homemade Sweet And Sour Sauce
4 reviews
Made with garlic powder, ground ginger, soy sauce, brown sugar, cornstarch, red wine vinegar, orange-pineapple juice
stovetop
Simple Sweet And Sour Sauce
1 review
Made with water, apple cider vinegar, ketchup, sugar
McDonald's Sweet And Sour Sauce For Nuggets
3 reviews
Made with soy sauce, apricot preserves, Heinz 57 sauce, Italian salad dressing
Sweet And Sour Pineapple Sauce
Made with lemon juice, brown sugar, unsweetened crushed pineapple, chicken broth, white wine vinegar, vegetable oil, soy sauce, onion, garlic
stovetop
Sweet and Sour Sauce With Chicken Broth
2 reviews
Made with water, white vinegar, sugar, ketchup, soy sauce, chicken broth, cornstarch
stovetop
Plum Sweet & Sour Sauce
Made with plum jam or orange marmalade, crushed pineapple in syrup, sugar, vinegar, soy sauce, cornstarch, water
stovetop
Blender Sweet-Sour Sauce
Made with salt, cornstarch, canned pimiento, frozen pineapple juice concentrate, brown sugar, vinegar, water, green bell pepper
stovetop
All-Purpose Sweet & Sour Sauce
1 review
Made with wine vinegar, apple or grape jelly, soy sauce, Worcestershire sauce
stovetop
Red Sweet-And-Sour Sauce
1 review
Made with red pepper sauce, sugar, ketchup, red wine vinegar
Thai Sweet & Sour Sauce
Made with red curry paste, coconut cream, lime juice, water, tamarind concentrate, coconut "nectar" (try to use the watery liquid not the thicker cream), pineapple juice