Condiments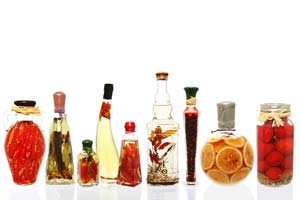 jump to the recipes

A condiment is a flavor enhancer for food. Ketchup, mustard and mayonnaise are some of the most popular condiments. Now you can make them at home with our tasty recipes. We also have recipes for flavored oil, gourmet flavors of butter, infused vinegar recipes and more.
Homemade Teriyaki Sauce

7 reviews 2 comments
If you need teriyaki sauce in a pinch, try this homemade version.
Macaroni Grill's Lemon Butter Sauce

6 reviews 2 comments
Made with lemon juice, white wine, heavy cream, butter
stovetop
Hellman's Mayonnaise

11 reviews 6 comments
Made with egg, dry mustard, salt, oil, cayenne pepper, lemon juice or vinegar
Garlic Butter Sauce

2 reviews
Made with unsalted butter, garlic
stovetop
Chili Oil

1 review
Made with olive oil, shallot, garlic, cayenne pepper, paprika, chili powder, red pepper flakes, cumin, fresh oregano, salt
stovetop
McDonald's Honey Mustard Dipping Sauce

1 review
Made with honey, prepared mustard, Heinz 57 Sauce
Belizean Style Habanero Sauce

6 reviews 2 comments
Made with salt, white vinegar, lime juice, onion, garlic, vegetable oil, carrots, water, scotchbonnet habanero peppers
stovetop
Homemade Miracle Whip

1 review
Made with dry mustard, salad oil, vinegar or lemon juice, sugar, salt, egg yolks
Blender Mayonnaise

3 reviews 1 comment
Made with cayenne pepper, paprika, lemon juice, egg, oil, salt, dry mustard
Red Pepper Chili Oil
Made with olive oil, mace, spicy steak seasoning (powdered), dried powdered onion, powdered garlic, powdered naga morich pepper (bhut jolokia), powdered super chili (Capsicum annuum), powdered red
Baked Garlic
Made with butter, garlic bulbs, olive oil, thyme
Cranberry Mayonnaise

1 review
Made with mayonnaise dressing, cranberry sauce