home > recipes > meals / dishes > sauces and condiments > sauces > dipping sauce > cocktail
Homemade Cocktail Sauce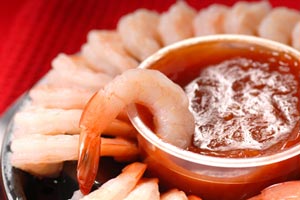 jump to the recipes

Cocktail sauce is the perfect dip for shrimp, crab, or other seafood. It is tomato based and usually gets a tasty tang from horseradish or spicy peppers. Great for holidays, parties, or anytime you have seafood!
Basic Cocktail Sauce
15 reviews 2 comments
Made with Tabasco sauce, ketchup, horseradish, lemon juice, celery salt
Basic Shrimp Cocktail Sauce
11 reviews
Made with ketchup, horseradish, lemon juice
Cajun Cocktail Sauce
4 reviews
This cocktail sauce has just the right proportions of chili sauce, ketchup, and horseradish. It's spicy without being too hot but yet has just the right "bite" to it.
Basic Shrimp Cocktail Sauce II
1 review
Made with dry mustard, ketchup, horseradish, Worcestershire sauce
Creamy Cocktail Sauce
4 reviews
Made with salt, celery salt, celery, mayonnaise, ketchup or thick tomato puree, Worcestershire sauce, lemon juice, onion
Crab Cocktail Sauce
3 reviews
Made with garlic salt, ketchup, chili sauce, lemon juice, horseradish, salt, Tabasco sauce
Seafood Cocktail Sauce
1 review
Made with salsa or ketchup, horseradish, lemon juice, hot pepper sauce
Gourmet Seafood Cocktail Sauce
Made with canned tomato puree, celery seed, chili sauce, ketchup, prepared horseradish, Worcestershire sauce, sea salt, lemon juice, black pepper, cayenne pepper
Mexican Cocktail Sauce
Made with Mescal or Tequila (optional), chili sauce, med. jalapeno pepper, seeded and minced, freshly minced parsley or cilantro, lime