Cook Time
Nutrition
Recipe Newsletter
Carolina-Style Barbecue Sauces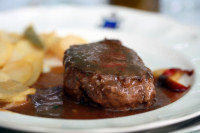 There are different predominant flavors a Carolina barbecue sauce may take on, depending where you are (North Carolina, South Carolina, and even within the states there are bbq flavor varieties such as "Eastern" or "Western"!). Vinegar-based and tomato-based are the most commonly found. There are also mustard and pepper varieties. Some are more sweet while others have a tangy flavor.
South Carolina-Style Mustard-Based Sweet Sauce Barbecue Sauce
Ingredients: dry mustard, apple cider vinegar, brown sugar, yellow mustard, sweet onion, butter, cayenne pepper, bay leaf, salt and pepper
stovetop
Hide Dish Data™ ▼
Nutrition per tablespoon:
43 calories, 3g fat, 4g carbs, 0g protein. Recipe is: Low in sodium.
North Carolina Barbecue Sauce
1 review

Ingredients: Worcestershire sauce, ketchup, butter, brown sugar, yellow mustard, onion, cider vinegar, chili powder, cayenne pepper, black pepper
stovetop
Show Dish Data™ ▼
North Carolina Vinegar Sauce
1 review

Ingredients: black pepper, red pepper flakes, salt, water, cider vinegar, crushed red pepper, brown sugar
Show Dish Data™ ▼
Carolina Gold
Ingredients: cayenne pepper, Worcestershire sauce, apple cider vinegar, tomato paste, brown sugar, prepared mustard, black pepper, garlic powder
stovetop
Show Dish Data™ ▼
Western South Carolina-Style Barbecue Sauce
1 review

Ingredients: salt, paprika, brown sugar, dry mustard, Worcestershire sauce, cider vinegar, garlic, onion, vegetable oil, cayenne pepper
stovetop
Show Dish Data™ ▼