Rice Dishes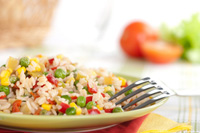 Try these tasty rice dishes like seafood risotto, Spanish rice, fried rice, or Cajun-style dirty rice.
Brown Rice
A foolproof way to cook brown rice by using the slow cooker. Perfectly cooked every time.
crock pot
PF Chang's Shrimp Fried Rice
Made with ground mustard, ginger, garlic, molasses, soy sauce, non-stick cooking spray, egg substitute, Salt and pepper, shrimp, canola oil
stovetop
French Onion Rice
Made with butter, white rice, condensed French onion soup, beef broth
oven
Popeye's Cajun Rice
Made with black pepper, water, ground beef, bell pepper, green onions, garlic powder, celery flakes, Creole seasoning, red pepper, long grain rice
stovetop
Homemade Rice-A-Roni
This copycat recipe is just like the rice mix you buy at the store. It contains rice, vermicelli, and powdered bouillon. Simply saute in butter and add water.
stovetop
Mushroom Wild Rice
Mushrooms and a combination of brown and wild rice are slow cooked in a rich broth made from beef consomme and French onion soup.
crock pot
Benihana's Fried Rice
Made with black pepper, salt, soy sauce, rice, peas, carrot, eggs, onion, butter
stovetop
Spanish Rice For A Crowd
Made with rice, dehydrated onions, green bell pepper, vegetable oil, bacon bits, diced tomatoes, sugar, salt, black pepper, chili powder
oven, stovetop
Basic Curried Rice
Made with turmeric, onion, rice, egg yolk, curry powder, green bell pepper, salt, black pepper, butter, cayenne pepper
stovetop
Creamy Risotto
Made with heavy cream, salt and ground white pepper, onion, butter, rice, white wine, chicken broth, water, Parmesan cheese
stovetop
Fried Brown Rice
Made with salt and pepper, soy sauce, brown rice, vegetable oil, ham or smoked turkey, onion, fresh ginger, eggs, frozen peas, shrimp
stovetop