Pork And Ham Dishes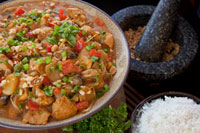 Delicious dishes for pork and ham like pork chops and rice, baked ham slices with pineapple glace, or apple pork roast
Baby Back Ribs
Made with black pepper, white pepper, cayenne pepper, chili powder, ground cumin, brown sugar, oregano, paprika, salt, sugar
crock pot
Pork Chops And Rice
A creamy one-dish crock pot meal made with pork chops, rice, onion soup mix, and cream of mushroom soup.
crock pot
Chinese Pork Chops
Pork chops get a hint of Asian flavor in this recipe using brown sugar, ground ginger, soy sauce, ketchup, and garlic.
crock pot
Smoked Pork Loin
Made with apple cider vinegar, molasses, water, soy sauce, ketchup, brown sugar, hot pepper sauce, center-cut pork loin
smoker
Barbecue Pork Loin Ribs
Made with pork loin back ribs, garlic, salt, black pepper, onions, brown sugar, prepared mustard, ketchup
crock pot
Easter Ham
Not overly sweet, not overly salty, this crock pot ham recipe is ideal for Easter or any time. Bonus: clean up is a breeze!
crock pot