home > recipes > meals / dishes > pasta dishes > meatless pasta
Meatless or Vegetarian Pasta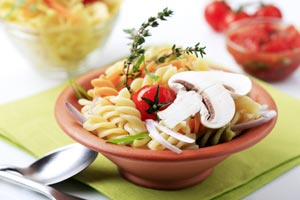 Meatless pasta recipes make great side dishes or vegetarian entrees. Recipes can be light like a simple parmesan pasta or hearty like baked pasta loaded with tomatoes, cream and five different cheeses! We have over 1,200 meat free pasta recipes with everything from meatless spaghetti, simple noodles, and vegetarian ravioli. Enjoy!
featured meatless pasta recipe
Made with lemon, salt and fresh-ground black pepper, parsley, cavatappi pasta, olive oil, garlic, lemon peel, heavy cream, tomato, Parmesan cheese
view recipe
meatless pasta recipe categories
Get our best recipes delivered right to you!
Sign up for our newsletters that feature hand-picked recipes
search the meatless pasta recipes