home > recipes > meals / dishes > pasta dishes > pasta with meat
Pasta with Meat or Seafood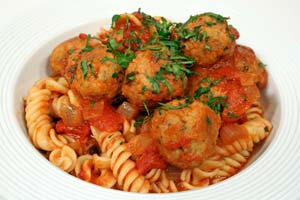 Pasta recipes with meat or seafood - both entrees and side dishes.
featured pasta with meat recipe
Made with green onions, garlic, chicken tenders, salt, red pepper flakes, artichokes, white wine, butter, cream, penne pasta
view recipe
pasta with meat recipes
Salmon, like most fish, is quick to cook. Pair it with some pasta and you have the makings of an easy and fast weeknight meal.

view recipes

Ham goes great in pasta, which is why we have so many recipes to choose from. Try a tettrazzini, baked pasta casserole, or a hammy mac and cheese.

view recipes

Hearty pasta containing Italian sausage, chorizo, smoked sausage, turkey sausage, and more

view recipes
Get our best recipes delivered right to you!
Sign up for our newsletters that feature hand-picked recipes
search the pasta with meat recipes