home > recipes > meals / dishes > pasta dishes > macaroni and cheese
More Macaroni And Cheese, Please!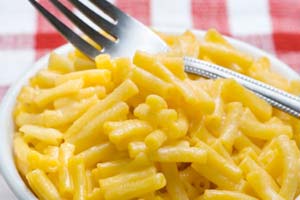 jump to the recipes

Macaroni and cheese is one of my favorite comfort foods - and I am pretty sure I am not the only one. The basics of mac and cheese are this: you need some form of pasta, cheese, and something to make a creamy sauce.

The Pasta: When I think of this dish, I think of elbow macaroni. It's what I grew up with and it's what is typically in the packaged mixes. You can, however, use a whole variety of pastas to make this whether it's for personal preference or out of necessity if nothing else is available. Short, thick pasta shapes work best, like rotini, ziti, rigatoni, etc. You can use long noodles like spaghetti but I recommend breaking them up to make eating it easier.

The Cheese: The absolute plethora of cheeses that are used in the various recipes here is what makes this dish so versatile (and probably so well loved). For the cheesy sauce you want a good meltable cheese like Cheddar or Monterey Jack, or use a processed cheese like American or Velveeta brand. But you don't have to stop there, you can add in plenty of others like Asiago, Parmesan, ricotta, etc., to dress it up even more.

The Sauce: You don't just melt cheese and mix it with the pasta, you need something to thin it out a bit and make it saucy. Milk, cream, and evaporated milk are all commonly used ingredients to accomplish this. Some recipes call for creamy canned soup to achieve the same results - either using a canned cheese soup, or something like cream of mushroom.

There are two primary ways to cook the dish: in the oven, or on the stovetop. Oven baking it can give it a nice crust on top. To keep it more on the creamy side, bake it in a deeper baking dish. To make it crusty, bake it in a shallow, wide dish. Even if you cook it on the stovetop you can still give it a crust by placing it in a broiler-proof baking dish, topping with buttered bread crumbs, and placing it under the broiler until browned.