home > recipes > meals / dishes > pasta dishes > pasta with meat > pasta with seafood > pasta with crab
Pasta With Crab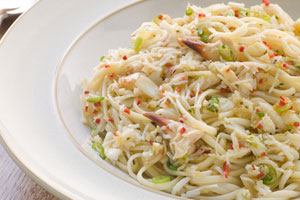 jump to the recipes

Crab doesn't need much cooking time which is one reason it pairs so well with pasta. Try some of these favorites like crab and pasta with alfredo sauce, shrimp and crab cannelloni, and Asian crab noodles.
Red Lobster's Crab Alfredo
16 reviews 2 comments
Made with crab meat, butter or margarine, flour, half-and-half, parmesan cheese, salt and white pepper, cayenne pepper
stovetop
Angel Hair Pasta With Crab
4 reviews
Made with parsley, crab meat, angel hair pasta, butter, olive oil, green onions, garlic, tomatoes, white wine, lemon juice
stovetop
Imitation Crab Alfredo With Penne Pasta
3 reviews 1 comment
Made with onion, butter, sour cream, cream of mushroom soup, milk, garlic powder, salt, Italian seasoning, black pepper, imitation crab meat
stovetop
Crab Pasta Casserole
6 reviews 1 comment
Made with basil, salt, sour cream, pasta, onions, fresh mushrooms, green bell pepper, garlic, butter, crab meat
oven, stovetop
Crab Sauce With Spaghetti
Made with paprika, salt, crabmeat, onion, celery, garlic, parsley, margarine, tomatoes, tomato sauce
stovetop
Angel Hair Pasta with Crab And Pesto
1 review
Made with Parmesan cheese, crabmeat, olive oil, shiitake or button mushrooms, butter, pesto sauce, tomatoes, lemon peel, angel hair pasta
stovetop
Gastronomia Italiana's Lobster Ravioli with Crabmeat Cream Sauce
2 reviews
Made with salt, black pepper, chives, egg white, butter, shallots, Maryland crabmeat, cognac, tomato sauce
stovetop
Simple Crab Dinner
Made with rice or pasta, crab meat, cream of shrimp soup, Worcestershire sauce, Cheddar cheese
stovetop
Asian Crab Noodles
1 review
Made with Chinese wheat noodles, peanut oil, thai fish sauce or soy sauce, fish or chicken stock, brown sugar, lime juice, egg, crab meat, garlic, fresh ginger
stovetop
Crabmeat Pasta
1 review
Made with olive oil, garlic, salt, cayenne pepper, paprika, milk, cornstarch, margarine, egg, egg whites
stovetop
Crab Fettuccine
1 review
Made with black pepper, salt, fettuccine pasta, olive or vegetable oil, garlic, red bell pepper, flour, evaporated milk, imitation crabmeat, Parmesan cheese
stovetop
Crab Alfredo
3 reviews
Rich Alfredo sauce is poured over pasta and topped with fresh steamed crab legs.
stovetop