home > recipes > meals / dishes > rice dishes > fried rice
Fried Rice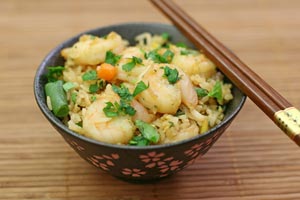 jump to the recipes

Fried rice is an Asian dish made from rice that has been cooked and chilled before being fried. It is best to have rice that has been chilled overnight in the fridge, but in a pinch you can use it if it has been cooled for less time. The rice is quickly stir-fried in oil in a wok or skillet with other savory ingredients such as small pieces of meat and vegetables, and seasonings like soy sauce or ginger. An egg, either scrambled or cooked as a pancake and cut into strips, is sometimes added. Fried rice is also called chow fan, or in Cantonese, chau fan. Fried rice can be a side dish or the main course. It is often made to use up leftover meats and vegetables from the previous days meals.

White rice is most commonly used but brown rice can also be used. Common types of fried rice include chicken, shrimp or other seafood, pork, beef, and tofu. The additional add-in possibilities are endless. You'll find recipes including everything from pineapple to lettuce. You'll also find that other ethnicities have created their own versions of the dish including Spanish, Puerto Rican, Mexican, Thai, and Indonesian.
P.F. Chang's Shrimp Fried Rice
9 reviews
Made with ground mustard, garlic, molasses, soy sauce, non-stick cooking spray, egg substitute, Salt and pepper, canola oil, shrimp, green peas
stovetop
Benihana's Fried Rice
3 reviews 4 comments
Made with black pepper, salt, soy sauce, rice, peas, carrot, eggs, onion, butter
stovetop
Oven Fried Rice
3 reviews
Made with mushrooms, onion soup mix, rice, water, oil, onion, green bell pepper, soy sauce
oven
Healthy Fried Rice
3 reviews
This recipe for fried rice starts off with brown rice as the base and incorporates low sodium ingredients to make it a healthier choice.
stovetop
Bacon Fried Rice
1 review
Made with green onions, bacon, eggs, oil, soy sauce, rice, salt
stovetop
Fried Brown Rice And Vegetables
1 review
Made with soy sauce, green onions, water, brown rice, carrot, snow peas, olive oil, frozen English peas, corn
stovetop
Spam Fried Rice
Made with white rice, black pepper, soy sauce, Spam, vegetable oil, onion, eggs, jalapeno pepper, carrot, boy choy
stovetop
Summer Vegetable Fried Rice
1 review
Made with long-grain white rice, peanut oil, eggs, yellow onion, garlic, zucchini, yellow squash, red bell pepper, scallions, Canadian ham or bacon
stovetop
Hua Toei Chao Fan Fried Rice
2 reviews
Made with oil, eggs, onion, frozen peas & carrots, salt, rice, soy sauce, ham, scallions
stovetop
Basic Fried Rice
5 reviews 1 comment
Made with frozen peas and carrots, long grain rice, oil, eggs, soy sauce
stovetop
Fried Brown Rice With Ham and Shrimp
1 review
Made with salt and pepper, brown rice, vegetable oil, ham or smoked turkey, onion, fresh ginger, eggs, frozen peas, shrimp, soy sauce
stovetop
Chicken Carrot Fried Rice
1 review
Made with black pepper, rice, carrots, boneless skinless chicken breasts, soy sauce, garlic, broccoli, green onions, vegetable oil
stovetop