home > recipes > meals / dishes > desserts > dessert pasta
Dessert Pasta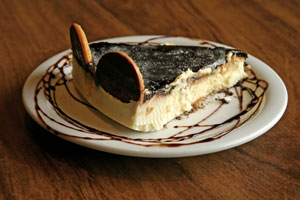 jump to the recipes

Pasta for dessert?

We normally think of pasta as being a savory dish - combined with cheese, meat, and a rich tomato sauce. But pasta dough is actually quite versatile and can be used in sweet dishes as well.

Some of our recipes call for using traditional pasta with sweet ingredients, like lasagna noodles layered with sweetened ricotta cheese and fruit. Other recipes call for making a sweeter pasta from scratch by incorporating cocoa powder, sugar or other sugary ingredients.

Our more popular dessert pastas include blueberry lasagna, chocolate hazelnut ravioli, and chocolate tortellini. Surprise your family or guests by serving chocolate pasta for dessert!
Olive Garden Chocolate Lasagna
7 reviews 6 comments
Made with eggs, water, meringue powder, confectioners' sugar, shortening, almond extract, salt, vanilla extract
oven
Chocolate Lasagna
2 reviews
Made with all-purpose flour, unsweetened cocoa powder, salt, extra large eggs, vegetable oil, ricotta cheese, heavy cream, sugar
oven, stovetop
Bittersweet Chocolate Ravioli
2 reviews
Made with powdered sugar, bittersweet chocolate, butter or margarine, sugar, egg, chocolate extract, baking soda, salt, flour, raspberry jam
oven, stovetop
Cocoa Pasta
Made with water, eggs, vanilla extract, sugar, cocoa powder, semolina flour
Apple Cream Lasagne
Made with whipping cream, lasagna noodles, margarine, Granny Smith apples, brown sugar, pecans, ground cinnamon, cream cheese, egg, vanilla extract
oven, stovetop
Angel's Pasta
1 review
Made with hazelnuts, angel hair pasta, whipping cream, dark brown sugar -- divided, strawberries -- thinly sliced
Rainwater's On Kettner White Chocolate Lasagna
Made with fresh mint, sweetened whipped cream, semi-sweet chocolate chips, white baking chips, shortening, chocolate ice cream, creamy peanut butter, chocolate-flavored syrup
stovetop
Chocolate Tortellini in Pear Broth
Made with white wine, preferably Chardonnay, well-shaped pears, lemons, cardamom, well-colored oranges, Armagnac or other fine cognac, anisette Italian biscotti, dark chocolate
Chocolate Hazelnut Ravioli
Made with powdered sugar, Granulated sugar, for dredging, non-stick cooking spray, mint, vegetable oil, chocolate-hazelnut spread (recommended: Nutella), egg, wonton wrappers