Chicken Enchiladas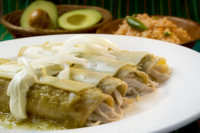 A traditional Mexican recipe made with shredded chicken. The chicken and any additional filling is rolled in a corn tortilla. The enchiladas are then baked, topped with a sauce and cheese. The traditional sauces are either a red chile sauce or a green (verde) sauce. Americanized versions of chicken enchiladas recipes often use a cream soup as the sauce base.
Healthy Chicken Enchiladas
A healthier take on chicken enchiladas made with ground chicken breast, onion, tomatoes, reduced fat cheese, your choice of red or green enchilada sauce and white corn tortillas.
oven, stovetop
Canyon Cafe's Pancho's Enchiladas
Made with roasted or grilled chicken, green onions, monterey jack cheese, flour tortillas, vegetable oil, yellow onion, heavy whipping cream, red pepper flakes, red cayenne pepper
oven, stovetop
Chicken Enchiladas
Made with enchilada sauce, chicken breasts, Cheddar cheese, onion, corn tortillas, black olives, cream of chicken soup
crock pot, stovetop
Chicken Enchilada Ring
Made with southwestern seasoning, lime juice, tortilla chips, crescent rolls, chicken, roma tomato, Mexican Cheese, sliced, green chiles, mayonnaise
oven
Old Style Green Chile Enchiladas
Made with water, chicken stock, chopped cooked chicken, green chilies, cumin, salt, garlic, tortillas, cooking oil, Jack or Cheddar cheese
Low-Fat Chicken Enchiladas
Made with tortillas, chili seasoning, boneless skinless chicken breast halves, cream of chicken soup, sour cream, green chilies, cheddar or mozzarella cheese
oven, stovetop
Chicken Enchilada Casserole
Made with cheddar cheese, onion, enchilada sauce, chicken, cream of chicken soup, black, corn tortillas
crock pot
Santa Fe Chicken Enchiladas
Made with vegetable oil, butter, green chilies, chili powder, flour, ground coriander, ground cumin, chicken broth, sour cream, monterey jack cheese
stovetop, oven
Chicken Enchilada Bake
Made with Cheddar or Mexican blend cheese, tortillas, chicken breast, pepper jack or nacho cheese soup, sour cream, green chiles
oven
Mexican Fried Chicken Enchiladas
Made with flour, corn tortillas, oil, chicken breast cooked and shredded, jalapeno peppers, onions, graded cheddar cheese, cream cheese