Cook Time
Cook Method
Nutrition
Cooking Articles:
Recipe Newsletter
Chicken Chow Mein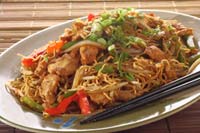 Chow mein is a Chinese-American dish that is commonly found in Asian restaurants in the US. Chicken chow mein is the most popular, consisting of small slices or cubes of chicken and vegetables like bean sprouts, mushrooms, water chestnuts, bamboo shoots, and green onions. Chow mein technically means "fried noodles" in Chinese so the dish is commonly served over crisp noodles.

These recipes are very flexible and you can incorporate fresh, frozen or even canned vegetables to suit your tastes. The noodles can be purchased in the Asian section of your supermarket. They often come in bags or cans. You can also serve these recipes with rice (steamed white rice is best!).
Chicken Chow Mein
Ingredients: chow mein noodles, oil, garlic, boneless chicken breasts, mushrooms, celery, bamboo shoots, chicken bouillon cube, soy sauce
oven, stovetop
Hide Dish Data™ ▼
Nutrition per serving:
380 calories, 22g fat, 26g carbs, 18g protein.
Chicken Chow Mein
2 reviews

Ingredients: mung bean sprouts, boneless, skinless chicken breasts, 7 to 8 ounces each, oyster sauce, soy sauce, salt and pepper, cornstarch, water or low-sodium chicken broth, oyster sauce
Show Dish Data™ ▼
Chow Mein
Ingredients: green bell pepper, mushrooms, Spanish onion, celery, Chinese cabbage, chicken, peanut oil, soy sauce, oyster sauce, sugar
stovetop
Show Dish Data™ ▼
Pineapple Chicken Chow Mein
Ingredients: brown sugar, black pepper, salt, chicken bouillon cubes, pineapple tidbits, drained (13.25 oz size), bean sprouts, undrained (16 oz size), celery, onions, oil, cornstarch
Show Dish Data™ ▼
Chicken Chow Mein
Ingredients: sliced water chestnuts (increase this if desired), garlic, ground ginger, red pepper flakes, soy sauce, sugar, chicken broth, celery, green onions, all parts, sliced, carrots
crock pot
Show Dish Data™ ▼
Chicken Chow Mein
Ingredients: chicken broth, Frozen Oriental Vegetable Mix, Thawed, water chestnuts, Oriental Vegetables, chicken, soy sauce, cornstarch
Show Dish Data™ ▼
Baked Chicken Chow Mein
1 review

Ingredients: boneless chicken breast, cut in thin strips, soy sauce, salt, dry sherry, white pepper, cornstarch, Chinese style steamed noodles or cooked thin egg noodles, chicken stock, ginger, onions
Show Dish Data™ ▼
Chicken Chow Mein
Ingredients: chicken meat (or pork or shrimp), celery, bok choy or broccoli, mushrooms, dry won ton noodles, bean sprouts or snow peas, onion, green onion, diced diagonal, carrot, sliced (optional), red pepper, sliced (optional)
Show Dish Data™ ▼
Chicken Chow Mein II
Ingredients: chow mein noodles (washed), head lettuce (shredded), stalk broccoli (chopped), head cauliflower (chopped), red bell pepper (cut into strips), handful roots (chopped), chicken breast halves (shredded), soy sauce, teriyaki sauce
Show Dish Data™ ▼