Chicken Breasts With Potatoes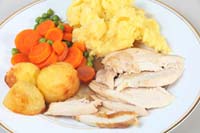 Chicken and potatoes go so well together as you'll see in these tasty recipes. Try one pan potatoes and chicken rosemary or maybe boneless chicken with potato-pepper hash.
Italian Chicken & Potatoes
Skinless chicken breast halves are cooked on top of potato wedges and topped with Italian salad dressing and parmesan cheese.
crock pot
Chicken And Potatoes
Made with boneless, skinless chicken breast halves, potatoes, garlic, yellow onion, whole milk, butter, Parmesan cheese, Mozzarella cheese, cheddar-jack cheese, Velveeta cheese
crock pot
Chicken And Red Potatoes
Made with chicken seasoning, milk, all-purpose flour, boneless, skinless chicken breast halves, red potatoes, olive oil, baby carrots, mushrooms, green chiles, cream of onion soup
crock pot, stovetop
Chicken Alfredo Scalloped Potatoes
Made with butter, boneless chicken breast, Alfredo sauce, cream of mushroom soup, onions, potatoes, salt and pepper
stovetop, crock pot
Chicken And Creamy Red Potatoes
Made with chicken breast without skin, red potatoes, Neufchatel cheese, cream of potato soup, Ranch salad dressing mix
crock pot
Baked Potatoes And Chicken
Made with butter, chicken breast fillets, salt and freshly ground black pepper, flour, potatoes, chicken stock, onion
stovetop, oven
Garlic Chicken and Potatoes
Made with chives, parmesan cheese, olive oil, boneless skinless chicken breast halves, potatoes, dried rosemary, seasoned salt, garlic
oven
Italian Chicken With Potatoes
Made with tomatoes, red bell pepper, Parmigiano-Reggiano cheese, spaghetti sauce, portabella mushrooms, boneless skinless chicken or pork, mozzarella cheese, red potatoes, chicken broth, onion
crock pot