Broccoli and Cauliflower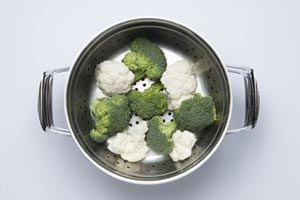 jump to the recipes

Broccoli and cauliflower go together like... well, broccoli and cauliflower! They are perfect complements to each other in both flavor and texture. And their colors contrast making whatever dish they share visually appealing.

The two veggies also go great with many of the same flavors so you'll often see them with a cheese or white sauce, with vinaigrettes, or horseradish. Because they cook at close to the same rate they work well in casseroles. I recently made the Cauliflower And Broccoli Flan With Spinach Bechamel as a side dish and it was absolutely delicious!
Broccoli And Cauliflower With Cheese Sauce

3 reviews
Made with salt and pepper, cauliflower, broccoli, butter, flour, milk, Cheddar cheese, Worcestershire sauce
stovetop
Broccoli, Cauliflower & Carrots with Parmesan Bread Crumbs

3 reviews
Made with cayenne pepper, Parmesan cheese, broccoli, cauliflower, carrots, vegetable oil, butter, bread crumbs
oven, stovetop
Cauliflower And Broccoli Flan With Spinach Bechamel

1 review
Made with Parmesan cheese, whole milk, cauliflower florets, broccoli, spinach, butter, all-purpose flour
oven
Cheesy Cauliflower And Broccoli
Made with Cheddar cheese, salt and pepper, frozen cauliflower, frozen broccoli, Cheddar cheese soup, bacon
crock pot, stovetop
Broccoli And Cauliflower Casserole

1 review
Made with Parmesan cheese, bread crumbs, nutmeg, water, salt, broccoli and cauliflower, milk, butter, flour, salt and pepper
oven, stovetop
Cauliflower Broccoli Medley
Made with bacon, black pepper, cauliflower, broccoli, onions, mayonnaise, vegetable oil, vinegar, sugar, salt
Broccoli, Cauliflower & Rice Bake
Made with buttery crackers, milk, condensed cream of chicken soup, water, white or brown rice, broccoli, cauliflower, butter or margarine, onion, process cheese food
oven, stovetop
Broccoli Cauliflower Bake

2 reviews
Made with crushed seasoned stuffing, black pepper, salt, cauliflower, fresh broccoli, Monterey jack cheese, sour cream, chopped green chiles, butter
oven, stovetop
Broccoli And Cauliflower Casserole
Made with fresh bread crumbs, ham, salt, frozen cauliflower florets, frozen broccoli florets, butter, flour, milk, cheddar cheese, Parmesan cheese
stovetop, oven
Zesty Broccoli Cauliflower Gratin
Made with white pepper, mustard, bread crumbs, cheddar cheese, cauliflower flowerets, broccoli florets, non-stick cooking spray, margarine
stovetop, oven
Broccoli And Cauliflower Gratin

3 reviews
Made with breadcrumbs, ground red pepper, Dijon mustard, fresh broccoli and cauliflower florets, mayonnaise, Cheddar cheese, Parmesan cheese, green onions
oven, stovetop
Broccoli & Califlower Supreme

3 reviews
Made with buttery crackers, cream cheese, ranch fat free salad dressing, Dijon mustard, cauliflower florets, broccoli florets
microwave