home > recipes > meals / dishes > breads and baking > pretzels
Pretzels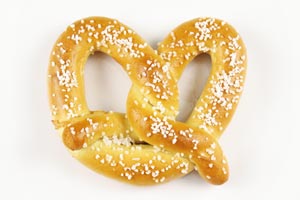 jump to the recipes

What is your favorite pretzel: soft ballpark style or crispy pretzel rods? Either way, we have several recipes to choose from including bacon wrapped and Chinese pretzels with shrimp!
Aunt Annie's Soft Pretzels
101 reviews 40 comments
Just like the pretzels you get at the mall. This copy cat version of Auntie Anne's is easy and delicious.
oven
Whole Wheat Soft Pretzels
7 reviews
Made with salt or sesame seeds, whole wheat flour, yeast, salt, water, vegetable oil, honey, egg white
oven
Soft Pretzels (Frozen Bread Dough)
1 review
Made with coarse salt, water, frozen bread dough, egg white
oven
New Year's Pretzels
2 reviews
Made with vanilla or almond extract, water, milk, butter, active dry yeast, salt, sugar, flour, eggs, confectioners' sugar
oven, stovetop
Soft Baked Pretzels
1 review 1 comment
Made with topping, all-purpose flour, rapid rise yeast, sugar, salt, milk, water, vegetable oil, egg
oven, stovetop
Easy Pretzels
Made with garlic salt, salt, pizza dough, egg, water, poppy seeds, sesame seeds
oven
Ballpark Pretzels
1 review
Made with sugar, active dry yeast, salt, flour, olive oil, baking soda, water, egg
oven, stovetop
Homemade Soft Pretzels
Made with pretzel salt, egg white, yeast, water, sugar, salt, butter, eggs, all-purpose flour
oven, microwave