home > recipes > meals / dishes > breads and baking > pastries > fritters
Fritters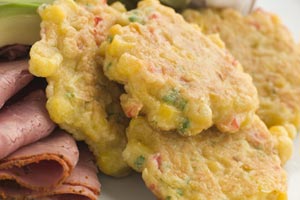 jump to the recipes

Fritters are small, sweet or savory cakes or balls that are dipped in a batter, deep fried until golden brown and heated through, and then served hot. Alternately, the ingredients can be mixed into a thick batter that is scooped up and dropped by spoonfuls into hot oil to cook. They can also be cooked on a hot griddle instead of deep-fried in oil.

Savory fritters, like crab or corn, are typically served as an appetizer or accompaniment to a meal. Depending on the ingredients, they may be served with a sauce or gravy.

Sweet fritters, like apple or banana, are eaten as a dessert or breakfast item and are often dusted with or rolled in powdered sugar before serving. They can also be served with a sauce, or drizzled with a sugar glaze.

Meats, fish or seafood, vegetables and fruits are all commonly found in fritter recipes.
Apple Fritters
1 review
Made with granny smith apples, cinnamon, apple cider vinegar, sugar, sparkling apple cider, powdered sugar, vanilla extract, heavy cream
stovetop
Amish Apple Fritters
2 reviews
Made with cooking apples, brown sugar, milk, lemon juice, flour, sugar, cinnamon, salt, eggs, lemon
oven, electric skillet/wok
Blueberry Fritters
Made with powdered sugar, vegetable oil, milk, egg, salt, sugar, baking powder, all-purpose flour, blueberries, flour
An Outstanding Conch Fritter
1 review 1 comment
Made with eggs, key lime juice, tomato paste, flour, baking powder, milk, thyme, parsley, oregano, celery seed
stovetop
Apple Fritter Rings From Pancake Mix
1 review
Made with confectioners' sugar, ground nutmeg, vegetable oil, Red or Golden Delicious apples, lemon juice, pancake mix, water
Worlds Best Conch Fritters
Made with cayenne pepper, cake flour, peanut oil, onions, green peppers, red pepper, celery, jalapeno, conch, eggs
stovetop
Corn Ball Fritters
Made with chicken bouillon cube, flour, baking powder, salt, basil, paprika, garlic, black pepper, milk, eggs
deep fryer
Dixie Crossroads' Corn Fritters
Made with powdered sugar, whole corn, oil, flour, baking powder, salt, sugar, eggs, milk, liquid butter
stovetop, deep fryer
Bisquick Corn Fritters
1 review
Made with Bisquick, milk, egg, corn
stovetop
Pan Fried Cauliflower Fritters
2 reviews
Made with oil, cauliflower, flour, salt, black pepper, water, egg, onion
stovetop
Cafe Blue Cheese Fritters
Made with eggs, flour, blue cheese, Parmesan cheese, Parsley, fresh-chopped, salt, lemon juice, black pepper, cream cheese