home > recipes > meals / dishes > breads and baking > breads and rolls > breads (non-machine) > chocolate bread
Chocolate Breads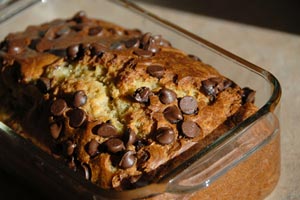 jump to the recipes

Chocolate bread sounds more like a dessert than a bread, but these recipes can be used just like any other bread. Try it with a peanut butter sandwich, or use it in French toast. Bread pudding? Of course!

Some of the recipes mix chocolate (like cocoa powder) into the dough for a smooth textured bread. Others, use solid bits of chocolate (like chocolate chips or coarsely chopped chocolate bars) which give the breads a chunky, chocolatey texture.

You'll find both quick and yeast bread versions. Some of the chocolate breads that use yeast can also be made in an automatic bread machine.
Chocolate Chip Bread
4 reviews 2 comments
Made with water, milk, bread machine yeast, bread flour, brown sugar, sugar, salt, cinnamon, butter, egg
bread machine
Banana Choco-Chip Bread
9 reviews
A simple banana bread made with bananas, flour, butter, eggs, sugar, baking soda, salt, chocolate chips, walnuts
oven
Chocolate Bread
4 reviews
Made with chocolate morsels, sweet butter, active dry yeast, sugar, water, flour, unsweetened cocoa powder, salt, egg
oven
Real Chocolate Bread
2 reviews
Made with milk, vanilla extract, yeast, bread flour, sugar, unsweetened cocoa powder, egg, butter or margarine
bread machine
Chocolate-Chip Banana Bread
7 reviews
Made with salt, bananas, sugar, orange juice, eggs, butter, vanilla extract, flour, baking powder, baking soda
oven
Chocolate Banana Cream Bread
5 reviews
Made with baking powder, butter, cream cheese, brown sugar, bananas, egg, sour cream, flour, miniature chocolate chips, baking soda
oven
Chocolate Panettone
Made with almonds, semisweet chocolate chips, single-rise or bread machine yeast, sugar, bread flour, salt, butter or margarine, egg, water, milk
Double Chocolate Bread
Made with chocolate chips, buttermilk, egg, butter, sugar, salt, bread flour, cocoa powder, bread machine yeast
bread machine
Chocolate Mint Bread
Made with yeast, flour, wheat flour, gluten, instant nonfat dry milk, sugar, salt, vegetable oil, white creme de menthe, water
bread machine
Chocolate Nut Bread
Made with chopped walnuts, chocolate chips, flour, sugar, baking powder, baking soda, salt, eggs, milk, oil
oven
Cocoa Applesauce Bread
Made with eggs, shortening, ground nutmeg, ground cinnnamon, salt, baking soda, baking powder, Hershey's cocoa, sugar, all-purpose flour
Chocolate Bunny Bread
Made with milk, egg, bread machine yeast, salt, bread flour, sugar, butter or margarine, vanilla extract, milk chocolate or peanut butter morsels, cocoa powder