Bagels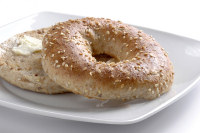 Bagels are a popular bakery item, but they are actually quite easy to make at home. Some recipes use a bread machine to knead the dough while others are just as easy to make by hand. Try the variety of flavors from pumpkin spice, whole wheat onion, jalapeno, parmesan herb or the favorite bagel - just plain New York style.
Pumpkin Spice Bagels
Perfectly textured bagels with the hint of pumpkin pie flavor. Delicious toasted with a sweet spread.
get the recipe →
Jalapeno Bagels
Bagels with a kick! They have a mild jalapeno flavor that can be tuned to your tastes and a good dense texture without being too chewy.
get the recipe →
Bread Machine Bagels
Leverage the power of your bread machine to mix the perfect dough for bagels. Once the dough is made simply follow the traditional bagel-making directions listed in the recipe.
get the recipe →
Whole Wheat Bagels
This was exactly what I needed for a whole wheat bagel recipe. The flavor and texture are pleasing, and I love that it is low fat. I did add a touch more honey and some vital wheat gluten (as a security), but otherwise, I followed the directions to the letter. -GUEST FOODIE
Bread Machine Garlic Bagels
Whole Wheat-Onion Bagels
Hawaiian Bagels
Basic Bagels
Bread Machine Basic Bagels
A very simple bagel recipe made in the bread machine.
Water Bagels
Montreal Bagels
Fantastic Fat-Free Bagels
Water Bagels
Onion Bagels
Parmesan-Herb Bagels