home > recipes > meals / dishes > breads and baking > breads and rolls > yeast breads > bagels
Bagels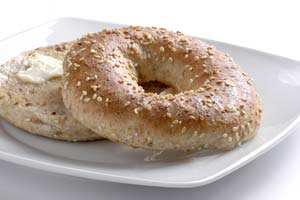 jump to the recipes

Bagels are a popular bakery item, but they are actually quite easy to make at home. Some recipes use a bread machine to knead the dough while others are just as easy to make by hand. Try the variety of flavors from pumpkin spice, whole wheat onion, jalapeno, parmesan herb or the favorite bagel - just plain New York style.
Authentic New York-Style Homemade Bagels
64 reviews 3 comments
Made with vegetable oil, malt syrup, bread flour, water, malt syrup or powder, salt, sesame seeds
oven, stovetop
Jalapeno Bagels
5 reviews
Bagels with a kick! They have a mild jalapeno flavor that can be tuned to your tastes and a good dense texture without being too chewy.
oven, stovetop
Bagels
5 reviews 1 comment
Made with poppy seeds, salt, bread flour, active dry yeast, water, sugar, corn meal, egg white
bread machine, stovetop
Whole Wheat Bagels
3 reviews 1 comment
Made with honey, salt, yeast, water, whole wheat flour
oven
Pumpkin Spice Bagels
3 reviews
Made with brown sugar, salt, pumpkin, cinnamon, ground cloves, nutmeg, allspice, active dry yeast, water
stovetop, oven
Basic Bagels
1 review
Made with water, white bread flour, brown sugar, salt, active dry yeast
bread machine, oven
Garlic Bagels
Made with active dry yeast, water, white bread flour, brown sugar, salt, garlic powder, garlic
bread machine, oven
Basic Bagels
1 review
Made with molasses, salt, spelt or whole wheat bread flour, water, yeast
oven, stovetop
Whole Wheat-Onion Bagels
2 reviews 2 comments
Made with yeast, onion, vegetable oil, whole wheat flour, all-purpose flour, salt, non-stick cooking spray, water, egg
stovetop, oven
Onion Bagels
Made with active dry yeast, white bread flour, brown sugar, salt, onion powder, dried onions, water
oven, stovetop, bread machine
Hawaiian Bagels
Made with dried coconut, dried pineapple, yeast, water, coconut extract, olive oil, malt powder or honey or sugar, salt, bread flour, gluten
oven, stovetop, bread machine