Baked Goods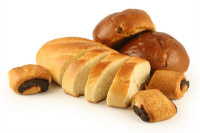 Nothing says comfort like the smell of something baking. Homemade bread is not only delicious but more nutritious than store bought. And with the invention of the bread machine, baking bread just got easier! We also have lots of recipes for other baked goods like pastries, muffins, dinner rolls, homemade pretzels and bagels and more. So dust off the mixer and get out the flour, we have some baking to do!
Aunt Annie's Soft Pretzels
Just like the pretzels you get at the mall. This copy cat version of Auntie Anne's is easy and delicious.
oven
Red Lobster Biscuits
Made with garlic powder, margarine or butter, baking mix, milk, cheddar cheese
oven
No-Yeast Bread
Made with butter or margarine, flour, sugar, baking powder, baking soda, water, vinegar
oven
Cinnabon Cinnamon Roll
Cinnabon made the cinnamon roll popular again and this recipe is a dead ringer for the ones you get at the mall.
oven
Golden Corral's Rolls
Made with all-purpose flour, active dry yeast, water, sugar, butter or margarine, salt, milk, egg
oven
Bojangles Biscuits
Made with butter, self rising flour, baking powder, confectioners' sugar, shortening, buttermilk
oven
Applesauce Bran Muffins
Made with raisins, bran cereal, applesauce, egg, margarine, brown sugar, all-purpose flour, baking powder, ground cinnamon
oven
Olive Garden Breadsticks
Copy the breadsticks you get at the Olive Garden with this easy recipe using frozen bread dough.
oven
King's Hawaiian Bread
Made with margarine, flour, eggs, pineapple juice, water, sugar, ground ginger, vanilla extract, yeast
oven