home > recipes > meals / dishes > breads and baking
Baked Goods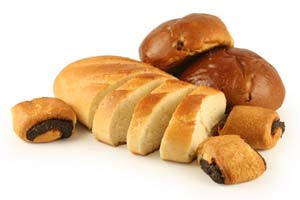 Nothing says comfort like the smell of something baking. Homemade bread is not only delicious but more nutritious than store bought. And with the invention of the bread machine, baking bread just got easier! We also have lots of recipes for other baked goods like pastries, muffins, dinner rolls, homemade pretzels and bagels and more. So dust off the mixer and get out the flour, we have some baking to do!
featured breads and baking recipe
Made with salt, cinnamon, nutmeg, plain non-fat yogurt, orange juice, maple syrup, egg whites, egg substitute, canola oil
view recipe
breads and baking recipes
Hundreds of recipes for both quick and yeast-raised breads, biscuits, dinner rolls, breadsticks, croissants, and more.

view recipes

Our huge collection of muffin recipes include everything from sweet to savory muffins

view recipes

Skip the trip to the bakery and make your own pastries at home. Try your hand at baked donuts, long johns, fritters, scones, bear claws, eclairs, and more!

view recipes
Get our best recipes delivered right to you!
Sign up for our newsletters that feature hand-picked recipes
view more breads and baking recipes
search the breads and baking recipes