Beef Dishes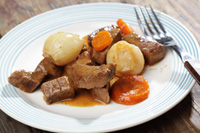 We're serving up some of our favorite beef dishes like beef goulash, classic beef and noodles, chicken fried steak or carnitas
Budget Cube Steak
Made with water, onion soup mix, cube steaks, cream of mushroom soup
crock pot
Stuffed Green Peppers With Cheese
A traditional oven-baked version of stuffed bell peppers made with ground beef, green bell peppers, onion, canned tomatoes, rice, and Cheddar cheese.
stovetop, oven
Three Envelope Roast
Made with water, ranch salad dressing mix, brown gravy mix, Italian salad dressing mix, beef roast
crock pot
Barbecued Boneless Beef Ribs
Made with rice, salt, prepared mustard, vinegar, beef ribs, water, tomato paste, ketchup, brown sugar
crock pot
Beef Sirloin Tips
Made with salt, pepper, flour, beef sirloin tips, green onions, mushrooms, beef broth, Worcestershire sauce, red wine, tomato paste or ketchup
crock pot
Classic Stuffed Bell Peppers
Parboiling the peppers reduces the cooking time in this recipe containing rice, ground beef, diced tomatoes, and Monterey Jack cheese.
oven, stovetop
Ground Beef And Rice Casserole
An easy family favorite. Ground beef is mixed with onion soup mix, cream of mushroom soup, onion, and rice and baked in a casserole dish until done.
oven
Beef Fajitas
Made with flank steak, onion, green bell pepper, red bell pepper, jalapeno pepper, cilantro, garlic, chili powder, cumin, ground coriander
crock pot
Unstuffed Cabbage Casserole
Made with onion, cabbage, green bell pepper, instant rice, water, tomato paste, tomatoes, ketchup, vinegar, sugar
stovetop, crock pot
Pot Roast With Vegetables
Made with cornstarch, black pepper, salt, beef sirloin tip roast, vegetable oil, potatoes, carrots, onion, water, beef bouillon granules
pressure cooker