home > recipes > cuisines > united states & canada > northeast states > pennsylvania
Recipes from Pennsylvania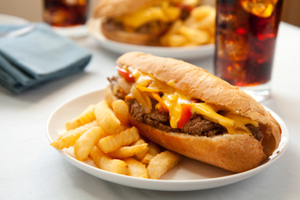 jump to the recipes

Pennsylvania is one of the original 13 US colonies. It's also the nation's leading producer of mushrooms. But it's better known for some more distinctive foods that mushrooms.

It's here that the Philly cheesesteak was created. It's a hot sandwich made from thinly sliced steak, topped with cheese, and served on a long bun. The cheese is usually Provolone, American cheese, or Cheez Whiz. Sauteed peppers, mushrooms, and onions are also often added. There are disagreements about what makes a "true" Philly cheesesteak.

Pennsylvania also hosts a large German community known as the Pennsylvania Dutch. The word Dutch is misleading as it was originally "Deutsch" and over time was mispronounced as Dutch. They are known for foods like scrapple, sauerkraut, and shoo fly pie.