Recipes from Mississippi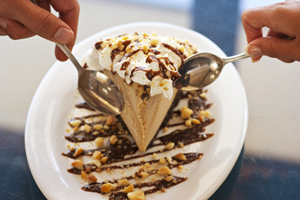 jump to the recipes

Mississippi is the leading producer of farm-raised catfish in the US. They also fish for shrimp, oysters, and red snapper in the Gulf of Mexico.

However, they are probably most famous for the Mississippi Mud Pie, named after the muddy Mississippi river. The pie traditionally is made with chocolate and coffee but has evolved to include other variations, including mud cakes and mudslide drinks.
Mississippi Cornbread Salad

4 reviews
Made with cornbread muffin mix, Ranch-style salad dressing mix, sour cream, mayonnaise, tomatoes, red bell pepper, green bell pepper, green onions, pinto beans, cheddar cheese
oven
Mississippi Mud Cake

4 reviews
Made with sugar, eggs, self-rising flour, baking cocoa, pecans, marshmallow creme, butter or margarine, confectioners' sugar
oven
Mississippi Fried Chicken

1 review
Made with baking powder, black pepper, chicken breast halves, salt and pepper, oil, flour, salt
stovetop
Mississippi Sin Dip
Made with loaf bread (pref. Hawaiian), green onions, small can deviled ham, green chiles, Cheddar cheese, cream cheese, sour cream
Mississippi Mud Cake
Made with caramel topping, English toffee candy bars, German chocolate cake mix, sweetened condensed milk, frozen whipped topping
oven
Mississippi River Mud Cake
Made with flaked coconut, chopped nuts, marshmallow creme, cocoa powder, vanilla extract, butter or margarine, salt, light cream or milk
oven
Mississippi Chili
Made with salt and pepper, kidney beans, tomato juice, onions, celery, garlic, oil, ground beef, chili powder, ground cumin
stovetop
Mississippi Mud Bars
Made with eggs, all-purpose flour, cocoa powder, salt, flaked coconut, marshmallow creme, unsalted butter, vanilla extract
oven