U.S. and Canadian Recipes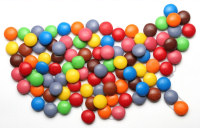 Recipes attributed to various states such as the Alabama Slammer, Mississippi Mud Pie, or Kansas City (MO) Barbecue Sauce
Bayou Gumbo
Sausage, shrimp, okra and rice provide all the great flavors of a classic Louisiana style gumbo in this recipe but with the ease of the crock pot.
crock pot, stovetop
Classic Denver Omelet
Also known as a Western omelet, this breakfast dish is made from eggs, ham, bell pepper, and onion. This version has the filling cooked right into the egg instead of the more traditional style.
stovetop
Hawaiian Chicken
Made with ginger, salt, lemon juice, boneless, skinless chicken breast halves, pineapple chunks, mandarin oranges, cornstarch, brown sugar
crock pot
King's Hawaiian Bread
Made with margarine, flour, eggs, pineapple juice, water, sugar, ground ginger, vanilla extract, yeast
oven
Hawaiian Chicken
Made with lemon juice, vinegar, cornstarch, boneless chicken breasts, flour, oil, sliced pineapple, bell peppers, sugar
oven, stovetop