home > recipes > cuisines > asian > stir-fries
Stir-Fry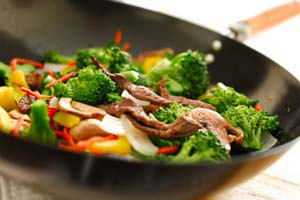 Stir fry recipes can be elaborate or simple, with meat or just vegetables, with or without sauce. Vegetables are quick-cooked so they are still somewhat crisp and fresh. Meats are sliced thin for even and fast cooking. If you don't have a wok to stir fry in, use a large skillet.
featured stir fry recipe
Made with beef top round steak, soy sauce, water, garlic, black pepper, cornstarch, oil, green bell pepper, green onions, mushrooms
view recipe
stir fry recipes
The short cooking time helps keep the chicken tender in these recipes. Combined with a sauce and loads of veggies, simply serve with rice or noodles and you have dinner in a flash!

view recipes
Get our best recipes delivered right to you!
Sign up for our newsletters that feature hand-picked recipes
search the stir fry recipes