home > recipes > cuisines > asian > stir fry
Stir-Fry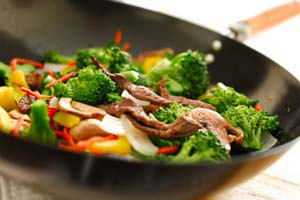 Stir fry recipes can be elaborate or simple, with meat or just vegetables, with or without sauce. Vegetables are quick-cooked so they are still somewhat crisp and fresh. Meats are sliced thin for even and fast cooking. If you don't have a wok to stir fry in, use a large skillet.
featured stir fry recipe
Made with broccoli or spinach, crushed red pepper, garlic, boneless, skinless chicken breast halves, water, peanut butter, soy sauce, brown sugar, peanut or vegetable oil
view recipe
stir fry recipe categories
Get our best recipes delivered right to you!
Sign up for our newsletters that feature hand-picked recipes
search the stir fry recipes